As children start out with baby teeth that inevitably fall out, visits to a pediatric dentist are often put on the back burner. However, despite the temporary nature of baby teeth, healthy oral care routines are vital for dental health and holistic development. At Mackenzie Dental Centre, your go-to dental clinic in Vaughan, we strive for exceptional care for every child–empowering them to confidently showcase their radiant smiles. Read on to discover the multifaceted ways a pediatric dentist contributes to your child's overall development.
Oral Hygiene Habits & Overall Health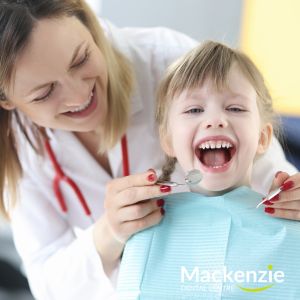 The overall well-being of your child is intricately linked to their dental health. Poor oral health can pave the way for caries, gum diseases, and systemic health issues like cardiovascular problems, diabetes, and respiratory infections in adulthood. Regular care from a trusted pediatric dentist can ensure healthy teeth and gums essential for a child's well-being. Our experienced team of pediatric dentists at Mackenzie Dental Centre provides critical support and guidance to your child through the problematic teeth transition years, promoting a robust foundation for your child's overall health.
Prevention of Long-term Issues
Establishing good dental habits in childhood can shield your child from more serious dental problems like caries and root canal treatments. Pediatric dentists can guide parents and children in cultivating good oral hygiene and the consequences of skipping brushing. Teaching children about proper oral hygiene, like regular brushing, flossing, and routine check-ups, instills habits that contribute to a lifetime of good oral health. A safe, comfortable environment makes it easier for children to ask questions about oral care practices and prepare for orthodontic treatment if required. The experts at Mackenzie Dental can foster a friendly relationship and monitor your child's oral health for cavities and other issues.
Preventing Tooth Decay
Tooth decay is a prevalent childhood condition that can trigger infection, pain, and tooth loss. Toothaches and gum pain can cause significant discomfort and irritability, distracting children from their daily activities. Pediatric dentists can monitor your child's teeth and emphasize the importance of regular dental care and a healthy diet. Preventive measures and regular dental visits can help avert tooth decay and costly treatments.
Social Interactions, Self-esteem, & Confidence
Dental problems like tooth decay, bad breath, or misaligned teeth can sometimes hinder social interactions. Children can become introverted and withdraw socially due to embarrassment and bullying. A healthy, attractive smile can be a powerful asset in boosting your child's self-esteem and confidence. Comprehensive care and early intervention at a trusted dental clinic in Vaughan help pave the way for a future where your child can confidently navigate social interactions.
Speech Development
Speech development hinges on proper dental alignment and oral health. Missing or misaligned teeth can be behind speech impediments that impact your child's communication ability. Routine examinations and interventions by our pediatric dentists at Mackenzie Dental Centre promote optimal oral health and the development of clear, confident communication.
Nurturing Bright & Confident Smiles with Mackenzie Dental Centre
At Mackenzie Dental Centre, we believe in a preventive approach by instilling good oral hygiene habits and addressing dental issues in time. Our skilled pediatric dentists can help preserve your child's smile while prioritizing their holistic development and well-being. Empower your child to embrace a future filled with confident smiles and immense success. Call now for an appointment with our pediatric dentists at our dental clinic in Vaughan!