Teeth Cleaning
Getting a regular check-up from your dentist is an important component of a thorough oral healthcare routine. Most regular check-ups will include a professional teeth cleaning service to ensure that you are able to remove tough, built-up plaque and the toughest to reach corners of your teeth are cleaned prior to your check-up. Contrary to most patient's beliefs, teeth cleaning is for more than just presenting a clean smile to your dentist in Vaughan.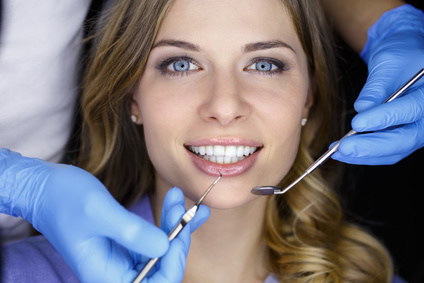 Regular, professional teeth cleaning can help reduce the risk of cavities and gum disease. For most people, you should get your teeth cleaned and receive a check-up from your dentist at least two times per year. This should be combined with regular brushing and flossing as part of your daily oral healthcare routine.
Regular teeth cleaning can provide you many benefits including:
Removing built-up plaque
Bacteria in your mouth contribute to stubborn plaque build-up on your teeth. A professional teeth cleaning helps to remove these bacteria and plaque build-up that can be difficult to remove even with regular brushing. However, even after a professional teeth cleaning, bacteria begin to recolonize within 24-48 hours, meaning that significant plaque can build-up within six months even with effective brushing. With professional teeth cleaning at least twice per year, you are less likely experience significant plaque and tartar build-up.
Identify problems early, before they become a bigger issue.
With regular dental check-ups and professional cleaning services, your dentist and dental hygienist can help identify oral health concerns before they develop into major problems. Your regular check-up and cleaning can help identify the early signs of oral cancer, cavities, gum disease or receding gums. Your oral health can also provide a picture of your overall health and can be used to identify early signs of cardiovascular disease.
Signs you might need a teeth cleaning
Even with regular, effective tooth brushing, plaque and tartar can build-up and calcify on teeth. Professional teeth cleaning approximately every six months can help ensure that both plaque and tartar can't build-up to the extent that they cause additional issues. You may require a professional teeth cleaning if you have not been to the dentist within the last six months and/or are noticing visible signs of plaque build-up. It is also important to visit your dentist if you experience any tooth or gum pain or significant tooth sensitivity. All can be signs of oral health issues that will need to be addressed by a professional. With regular check-ups and cleaning every six months, you should be able to catch any oral health issue before it can cause significant damage.
How often should you get a cleaning?
You should get a professional teeth cleaning every six months (or twice a year) in combination with your dental check-up. Make sure to check your dental insurance plan to determine what you are eligible for, as some plans allow you to receive a professional cleaning more than twice per year.
What happens during teeth cleaning?
During a professional teeth cleaning, there are several important steps to help remove built-up plaque and clean teeth and gums. Overall, it is a simple and painless process that will help improve your oral health overtime. In general, your dental check-up and teeth cleaning service will include:
The physical exam
Usually, the dental hygienist will start with a physical exam of your teeth using a mirror. This will allow the dental hygienist to look for any signs of gingivitis or other issues. If the dental hygienist is concerned, they may ask the dentist to come take a look before they proceed with the other steps of the cleaning process.
Removal of tartar and plaque
The dental hygienist will then use a scaler to get rid of built up plaque on the teeth and around the gums. You may hear a scraping sound, but don't be alarmed, that is normal.
Cleaning with toothpaste
Once the teeth have been cleaned of plaque and tartar, the dental hygienist will use a high-powered electric toothbrush and a gritty toothpaste which will polish the teeth.
Flossing
Whether you regularly floss at home or not, your dental hygienist will then floss your teeth. This is especially important for hard to reach corners of your mouth that you may not be able too floss as efficiently on your own.
Rinsing
Finally, you will rinse your mouth and your clean will be ready for your check-up with the dentist.
Kids' teeth cleaning
At Mackenzie Dental Centre, we provide comprehensive dental care for your entire family. When looking for a reliable family dentist, it is important to find someone who is a good listener who pays close attention to patient details and prioritizes long-term, meticulous oral healthcare. This is especially important for children to develop a strong relationship with their dentist to ensure they develop lifelong oral health care habits. At Mackenzie Dental, we value educating and respecting patients' personal and health care needs. For children, this includes being patient and understanding and incorporating fun elements into the dental check-up and cleaning process. For more information on dental services for children or for your child's first dental visit, contact our team at 905-417-8700 and we will be happy to answer any question you may have.
Professional teeth cleaning is an important part of any complete oral health care routine. When combined with daily brushing and flossing, as well as regular visits to your dentist, you can ensure that you are maximizing your oral health. This will help you prevent cavities, gum disease and other common oral diseases while also allowing your dentist to identify the early signs of significant systemic diseases such as heart disease. At Mackenzie Dental Centre, Dr. Lloyd Pedvis has over 30 years of experience in cosmetic and family dentistry. Conveniently located in Woodbridge, Dr. Pedvis and his team provide dental care to a wide variety of families in the Greater Toronto Area. To get started with your next professional cleaning or dental check-up, contact our team at 905-417-8700.