Preventive Dentistry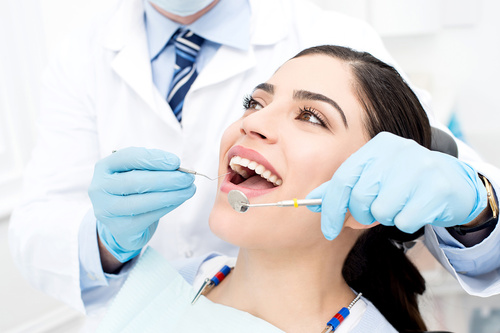 Preventive dentistry is all about properly caring for your teeth. It's up to each of us as individuals, and in many cases, there's reliance on a trusted dentist. The idea, of course, is to keep teeth and gums healthy and to avoid cavities, enamel wear, and gum disease. The basics are simple: daily brushing and flossing; regular dental cleanings and clinic visits; and early diagnosis of the more serious issues. At the Mackenzie Dental Centre, prevention is key to optimum oral hygiene.
For Dr. Lloyd Pedvis and the dentists in Vaughan, it's important to provide patients with a comprehensive approach to preventive dental health. As such, the clinic offers a wide range of patient services – everything from regular dental exams, to special fluoride treatments, to periodontal hygiene therapy. More importantly, there's really no substitute for oral hygiene that begins right at home. This includes daily brushing and flossing, and a serious commitment to healthy diet habits and lifestyle.
The Wand Computer Assisted Anesthesia
For patients, the Wand Anesthesia System is a more comfortable and less stressful anesthetic than using a conventional syringe. Patients who might otherwise feel stressed in the dentist's office much prefer The Wand to the syringe. As well, numbness in surrounding areas is reduced, allowing a patient to return to work or home without the discomfort of a numb face.
Periowave™ - Gum disease treatment
Periowave™ is a painless, non-invasive treatment that has been shown to significantly reduce gum disease. Periowave™ uses a photodynamic disinfecting procedure to neutralize the harmful bacteria that causes gum disease. Each treatment (per tooth) requires only 60 seconds of laser activation – it's quick and stress-free. Periowave™ is an adjunct to periodontal hygiene care.
Velscope - Oral cancer screening
The Velscope is considered to be the leading technology for oral cancer screening. It's supported by the Canadian Dental Association and is safely administered, without pain. The Velscope uses fluorescent technology to help identify tissue that may be cancerous or pre-cancerous. Lesions that can't be detected by the naked eye can be isolated and identified by using the Velscope.
Digital X-Rays - For safety and comfort
Visual inspection of the teeth is extremely restrictive. Over the years, X-Rays have allowed dental professionals to identify areas of tooth decay; find abnormalities between the teeth; and detect periodontal conditions. Today, Digital X-Rays are faster and sharper than conventional X-Rays. They emit less radiation, and with computer technology, the images are available immediately.
SIRONA - SIROLaser
The SIRONA SIROLaser has proven itself in many dental applications: herpetic lesions; root canals; periodontal treatments; and oral surgeries. Dental lasers allow for greater precision during a particular treatment, much less swelling right after treatment, and faster healing times. For gum surgery and periodontal treatments, recovery times are substantially reduced.
DIAGNOdent – Cavity Detection Aid
DIAGNOdent is new technology that helps the dentist to detect cavities. And since early detection is key to optimum oral health, DIAGNOdent is essential to ensure early discovery and treatment. DIAGNOdent can actually identify small, emerging cavities that may not be otherwise visible - it all makes for more accurate and precise diagnosis during the initial visit.
In keeping with a preventive approach to dentistry, Dr. Pedvis, dentist in Woodbridge, and his team encourage routine clinic visits, as well as regular professional cleaning. Early diagnosis is central to oral health care, especially with conditions like gum disease. This is why the Mackenzie team provides such a comprehensive approach to preventive oral care. Not to forget – the best oral hygiene begins at home, with daily maintenance, a healthy diet, and a responsible lifestyle.