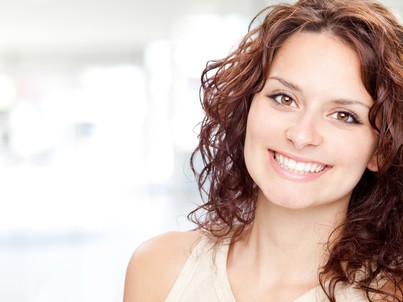 Dental Implants
A dental implant is designed to replace a natural root and further support the new "replacement tooth" that will be installed. Dental implants are a surgical procedure, connects the so-called "replacement tooth" with the jaw. At the Mackenzie Dental Centre servicing patients in Dental Clinic Vaughan including Woodbridge, and Maple, Dr. Lloyd Pedvis recommends this procedure as a viable option for many of the clinic's patients - a treatment plan with excellent outcomes for most patients. Clearly, it's a surgical procedure that requires a skilled professional.
The Benefits of Dental Implants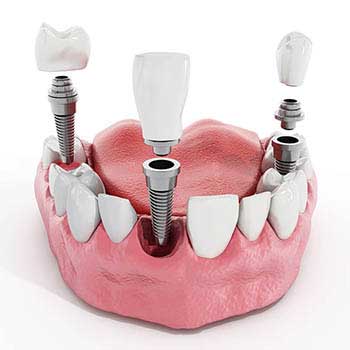 With a dental implant, the primary benefit for any patient is the comfortable, natural feel once the procedure has been completed. Dental implants are designed to look exactly like your other teeth – it's practically impossible to see a difference. Although the aesthetic look is important, there are other benefits as well. An implant actually supports the physical structure of your jawbone when a natural tooth is absent. As well, implants ensure balanced "bite forces" like the other natural teeth. At the Mackenzie Dental Centre, our trusted dentist in Woodbridge, Dr. Lloyd Pedvis will recommend implants for specific patient conditions. It's a procedure with excellent long-term outcomes and one that can address a number of serious dental issues. Implants require skill, precision, and expertise.
Technically speaking, the dental implant is actually a "post" that is surgically embedded in the jaw and designed to replace the root of a tooth. The finished dental implant will be the "anchor" for the new "replacement tooth". In general, dental implants are performed on patients who are in good health, with healthy gums, and with sufficient bone mass to ensure a successful procedure. For the most part, this surgical operation is quite painless, and with excellent long-term results.
How long will the dental implants last?
For patients contemplating long-term tooth replacement, a dental implant is a preferred choice. At the same time, patients always have a question about longevity. The truth is, the lifespan of a dental implant will rely on a number of factors – particularly the patient's lifestyle and especially routine dental hygiene. Today, the technology of implants is quite advanced and implant failures (rejection or functionality) are largely absent. Implant longevity has more to do with pre-existing patient health than anything else. And failure has more to do with misuse/mistreatment than anything else. The point is, proper maintenance and care of the teeth will provide the best conditions for implant lifespan. Finally, regular dental visits and semi-annual examinations are always good.
For patients who are committed to regular dental visits, it's much easier to diagnose the need for a dental implant. Early diagnosis also makes it easier to establish an immediate treatment plan. The fact is, early diagnosis can often preclude the need for more serious surgical procedures. For the patient, it's important to understand that surgical implants are a step-by-step procedure. The implant must be rooted to the jaw; gum tissue requires healing; and this process takes time.
Are dental implant procedures painful?
Dental implant surgery is generally painless. For many patients there is some trepidation, and this is understandable. However, the Mackenzie Dental Centre offers patients Moderate Sedation to allay fears and therefore allow for a stress free and practically pain-free implant procedure.
As implant surgery proceeds, the dentist prepares to connect the artificial "replacement tooth" to the "post". Once the artificial tooth is fastened to the "post", the procedure is complete. With a finished dental implant, the patient's teeth are both natural looking and natural feeling. For Dr. Pedvis, precision and skill is key to a successful dental implant – and to long-term success. As well, every patient can rest assured that the Mackenzie team is competent and professional.
When procedures become more complex, there's clearly more work and time required. Full-mouth reconstruction, for example, may entail multiple implants in order to resolve a condition. At times, there may even be a need to incorporate bridges with implants. And for some patients, dentures may be connected to dental implants. Today, with advanced treatment procedures and high-tech instruments, Dr. Pedvis can correct a wide range of conditions with great success.
Can dental implants decay, rot, or fail?
Dental implants provide indefinite sustainability as long as they are properly maintained. Like natural teeth, decay and deterioration can be avoided with appropriate care. Importantly, there are factors that may cause an implant to fail. For example, people with diabetes or other serious conditions do have a high risk of implant failure. Frankly, it's poor home-care that is the most problematic – and here, gum disease is another issue that can compromise implant success.
A Leading Dentist in Woodbridge, Vaughan
The Mackenzie team is highly qualified, and patient health is always at the forefront of treatment. Overall, the clinic promotes a preventive approach to oral care, and every effort is made at early, effective diagnosis. In addition, Dr. Pedvis believes that regular dental visits are essential to maintaining optimum oral health. It's the best way to ensure consistent health, and it's the best prevention to avoid any condition from getting worse.
Learn More About Dental Implants In Vaughan, Woodbridge and Maple.