Dental Veneers
Transform Your Smile with Custom Dental Veneers in Woodbridge, Vaughan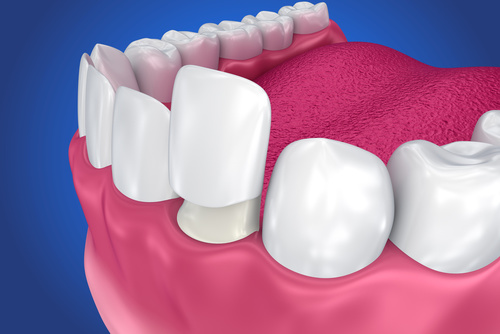 Go Brighter and Whiter with Composite & Porcelain Dental Veneers.
If chipped teeth, discolouration, or other insecurities about your teeth stop you from feeling like your best self every time you flash a smile, laugh with friends, or take a photo, there's a solution: dental veneers.
Composite and porcelain veneers offer patients in Vaughan the ability to fall in love with their smile again without shame or uncertainty.
Patients with damaged or decaying teeth may benefit greatly from dental veneers as a solution to their problems. Cosmetic dentistry options such as composite and porcelain veneers change the look of your teeth for a smile you love. At Mackenzie Dental Centre, Dr. Lloyd Pedvis can discuss the pros and cons of the treatment plan and recommend a suitable course of action. In general, dental veneers are thin translucent "shells" (porcelain or composite) that fit perfectly over the teeth in order to correct a deficiency. Dental veneers are custom fabricated for fit, and noticeably improve the aesthetic look of the teeth. Depending on the patient's condition, veneers may well be the best option. Speaking to a veneers dentists in Vaughan can help you navigate the best option for you. If you have a dental emergency, choose Mackenzie Dental Centre for outstanding service.
Are Dental Veneers for You?
Dental veneers in Vaughan are a popular cosmetic dentistry choice for patients struggling with the appearance of their teeth. Over time teeth naturally become yellow and diminish, or they are exposed to damage from accidents and injuries. Composite and porcelain veneers at Mackenzie Dental Centre revive your teeth, hiding blemishes for a unified, beautiful smile.
Do you struggle with…
Chipped or broken teeth?
Yellowing or discoloured teeth?
Smaller than average or larger than average teeth?
Cracks or stains on the surface of your teeth?
If your teeth are affected by any of the above qualities, talk to the cosmetic dentistry team at Mackenzie Dental Centre to learn how to transform your smile with dental veneers.
Why Dental Veneers
Dental veneers can be prescribed for various problems: chipped and/or broken teeth; teeth that are permanently stained; crooked and/or misshapen teeth; unattractive spaces between teeth; even fillings that are unappealing. But as any dental professional will profess, dental veneers are designed only to improve the aesthetic appearance of teeth. In fact, veneers may not be suitable for all – that's why a comprehensive dental examination is required. Here, the Mackenzie team can assess if veneers are right, and if the potential results warrant the treatment protocol.
For patients experiencing a serious level of tooth decay, or for those faced with symptoms of gum disease, there may be additional treatment required before veneers are applied. As well, patients who have poor tooth structure or insufficient enamel may not be good candidates. Finally, in such cases where patients are known to grind their teeth, here too, veneers may not be the answer. At the Mackenzie Dental Centre, our dental clinic in Vaughan will ensure all issues are diagnosed, and all dental procedures are considered, depending on the patient. If veneers aren't appropriate, there are other options, such as crowns.
Dental Veneers Procedure
In terms of procedure, there are two options with dental veneers. For instance, composite resin veneers stick directly onto the enamel surface of an existing tooth. These are designed to colour-match a patient's natural teeth, and are applied in layers. When the layers of resin fully harden, your veneers dentist can shape and polish the newly veneered tooth accordingly. The finished tooth looks smooth and natural, and aesthetically, the results are impressive. With a high quality approach to treatment, composite veneers look so natural that they're often difficult to distinguish.
Porcelain Veneers
Porcelain veneers are another option, and with a number of benefits. They are solid, durable, and resilient. They will sustain for about 10 or 15 years. They won't attract or retain stains. And they have a very "life-like" look. Porcelain veneers provide exceptional results overall, although the procedure is somewhat more costly than other methods. This is primarily because the treatment is complex and requires a higher level of professional expertise. As it is, patients at the Mackenzie Dental Centre can rest assured that Dr. Pedvis will recommend and prescribe the best options.
For all dental veneer procedures, long life will depend on day-to-day oral hygiene, consistent maintenance, and a commitment to regular dental examinations. Needless to say, patients with veneers must be more careful than others with the way they bite, chew, or grind.
Why Choose Mackenzie Dental Centre for Dental Veneers in Vaughan
Dr. Pedvis and the Mackenzie Dental Centre team is a leading cosmetic dental clinic in Vaughan with over 30 years of experience. We use high-quality materials and advanced digital scanning technology to customize dental veneers and all our dental solutions for the best performance and longevity.