Invisalign®
The brand name Invisalign® might be familiar from an advertising campaign or marketing effort, but for patients who are considering the treatment plan, it's essential to understand the system, and if it's a good option. Patients who have a good understanding of their treatment are inclined to make better decisions for themselves, and also work more collaboratively with their dentist.
Invisalign® Aligners – a clear alternative to braces
Many people are familiar with Invisalign® aligners – usually from advertising, but often from their dentist. The important thing for patients is to understand how Invisalign® works and if it is the right option. Patients with a good understanding of the protocol will make better decisions, and will work more collaboratively with their family dentist.
Can any Dentist do Invisalign®?
If you're wondering how to get Invisalign®, your family dentist is the best place to start. Any licensed dentist in Vaughan can provide you with the Invisalign® protocol, although extensive experience with the device is desirable. As a first step, it's important for your dentist to determine and advise if you are a good candidate for Invisalign® - an initial assessment would also be able to forecast the benefits of the treatment and potential improvements.
Do Braces or Invisalign® Hurt More?
A common question with Invisalign® is about mouth pain. In general, any orthodontic treatment will have some mouth pain – certainly traditional metal braces cause some pain throughout the treatment protocol. Invisalign® Aligners are typically advertised as less painful than traditional metal braces.
"Less painful" does not mean "pain free". When teeth are being moved and straightened, there is likely to be some pain. However, Invisalign® is considered less painful than the metal braces option, and pain usually dissipates once the teeth and mouth adjust to the aligners. With time, there is less soreness.
Are Traditional Braces Better than Invisalign®?
Whether it's braces or Invisalign®, these treatments are designed to straighten teeth. The aim, of course, is to reposition your teeth, improve your look, and promote proper function. While traditional braces use metal wire as protocol, Invisalign® utilizes unique aligners (clear plastic) as protocol.
Beyond straightening teeth, the Invisalign® process (and conventional braces) will also correct bite issues that may be the cause of other issues. Invisalign® is recommended for patients with issues that are not complex. The custom made aligners are worn 24/7 with adjustments made periodically.
One of the biggest advantages of the Invisalign® protocol is that the aligners are fairly invisible (hence the brand name). Clearly, this is a benefit in terms of aesthetics, and a bonus when it comes to social situations. Wearing the aligners also offers a certain level of comfort without affecting speech.
How Long Does Invisalign® Take to Straighten your Teeth?
Many patients ask their dentist – how long does it take to see results from Invisalign®? The truth is, every patient is different, and tooth alignment will depend on many factors. While there are guidelines, there is no specific timetable that applies to everyone. With Invisalign® there are averages – generally, it takes six to twelve months for your teeth to be re-aligned into optimal position. Most patients will start noticing changes during the first two months of treatment.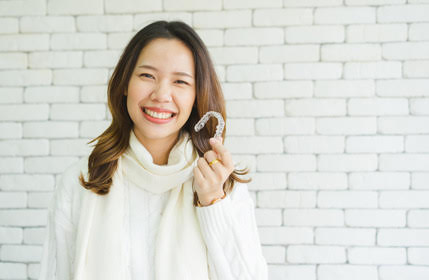 In some patients, Invisalign® will work more slowly. With crooked or misplaced teeth, it might take some time to notice results. One way or another, there should be noticeable results at the six-month point. Your dentist will be guiding you through the entire process, so progress will be monitored, and corrective measures will be taken according to need. Invisalign® treatments actually take less time overall when compared to braces - it just takes time to see results!
Do Teeth Shift as you Age?
Teeth shifting can occur for a variety of reasons. More than that, teeth shifting can cause problems with biting and chewing, causing jaw or neck pain. If you've noticed a shift, it's not uncommon, particularly with age. However, in some cases, the guidance of a dental professional might be required.
According to professional associations, your teeth will naturally shift throughout life, with gradual movement as we age. Enamel loss, by example, can change tooth shape and cause teeth to misalign – this could also change bite patterns. The same applies to crooked teeth and missing teeth.
In terms of treatment, shifting teeth can be treated using a variety of options – retainers, mouth guards, even Invisalign®. Treatment protocol will always depend on the severity of the shifting and on any underlying cause. Here again, your family dentist will provide the required professional support.
With teeth shifting, there is really no specific treatment that is guaranteed to provide a permanent solution. Beyond any subtle shifting, patients concerned about dramatic changes should consult the family dentist. With today's advanced diagnostics, the nature of the problem can be identified.
Does Invisalign® Make your Teeth Perfect?
Invisalign® Aligners are not for everyone – but they could be perfect for those with relative misalignment, overbites, or under-bites. With an experienced dentist in Vaughan, patients can count on results within a year. However, patience and commitment are required, since no treatment is 100% perfect. Working collaboratively with your dentist will help.
With all of the guidelines and limitations, the results with Invisalign® make the protocol worthwhile. Oftentimes, with improved alignment, patients are more devoted to oral health care – including dedicated brushing, regular flossing, and even better eating. The bottom line, of course, is to maintain ongoing oral health, especially for the long term.
Do your Teeth stay Straight After Invisalign?
With orthodontics, patients sometimes focus on the process of straightening their teeth, without having a long-term view. Indeed, keeping teeth straight after treatment is just as important – and that's all about personal maintenance. Even with treatment, the entire mouth and jaw has to accommodate the teeth in their new position, and this takes time. This is where retainers are so vital in keeping straightened teeth in place. The last thing a patient wants to do is stop wearing a retainer. That's why Invisalign® before and after results depend so heavily on a patient's personal commitment day to day into the future.
Non-Invasive Clear Braces
To be sure, all dental treatments and procedures require an initial consult from a professional. And with Invisalign® it's no different, particularly because it's such a specialized product. At the Mackenzie Dental Centre in Vaughan, Maple, and Woodbridge, Dr. Lloyd Pedvis determines if Invisalign® is right for a patient, and how best to proceed. Dr. Pedvis also discusses the benefits, and outlines the treatment plan.
Clearly, each patient is different, and with different needs. With Invisalign®, conditions from basic to difficult can be addressed. And during the initial consultation, patients can ask all of the relevant questions: about the procedure; about total costs; and even about insurance coverage. Overall, Invisalign® requires a commitment to both the treatment plan and the investment.
How to Assess for Invisalign® Treatment?
Dr. Pedvis begins the treatment protocol with a set of detailed x-rays of the patient's teeth. This will be the basis for a three dimensional image of the teeth. At this time, the movement of teeth is also assessed, and the extent of treatment can be better evaluated. Best of all, the Invisalign® system allows patients to view a virtual demonstration of how the teeth will be altered.
While every patient is a unique case, Invisalign® treatments generally take about one year. It all starts with personalized "clear aligners" which are custom fit for each patient. These are made of "BPA-FREE" plastic – they are comfortable and don't irritate the teeth or mouth. Patients wear these aligners throughout the course of the day, and remove them when eating or brushing.
How Does the Invisalign® Technology Work?
The principal behind Invisalign® technology is that the teeth shift gradually. The teeth actually move into proper alignment while the aligners are being worn. The beauty, of course, is that the fixture is virtually invisible, and unlike conventional braces, everything is inconspicuous. Every 2 weeks a new set of aligners is provided, and every 6 weeks progress is monitored at the clinic.
For best outcomes, Dr. Pedvis recommends wearing the aligners for about 20 hours a day (from day one to the end of the treatment). Most patients will notice changes at practically every stage of the treatment. Overall, it makes for a patient experience that is both positive and empowering. By the end of the treatment period, physical changes are conspicuous and dramatic.
Combine Invisalign with Proper Oral Healthcare
For the team at the Mackenzie Dental Centre, ongoing oral health maintenance is vital to overall health. This is particularly relevant during and after Invisalign® treatment. Like the entire body, teeth need proper care, complemented by routine examinations. This will ensure a quality level of oral health, and prevent the potential for conditions to develop and eventually deteriorate.
In addition to Invisalign®, Mackenzie Dental Centre offers a wide range of professional dental services in Vaughan, along with a clinic environment that is comfortable, and caring.
Why Choose the Mackenzie Dental Centre?
At the Mackenzie Dental Centre, Dr. Lloyd Pedvis provides a wide range of services including Invisalign® Aligners. With a personalized approach to dentistry, Dr. Pedvis offers patents a modern and professional style of dentistry. Call Dr. Pedvis at 905-417-8700 or book an appointment through our contact page.