Teeth Whitening
Want Whiter Teeth & Brighter Smile Fast?
At the Mackenzie Dental Centre, we see each of our clients as a unique individual. The clinic offers a wide range of professional dental services, each of which is tailored to suit patient needs. The dental office is modern, comfortable, and soothing to the senses - all designed to provide a satisfying and fulfilling experience. From checkups, to more comprehensive dental procedures, patients can rest assured that they are in capable, professional hands with the Mackenzie's teeth whitening dental clinic in Woodbridge, Vaughan.
ZOOM! Teeth Whitening in Woodbridge, Vaughan
Don't spend hours and days at dentists in Vaughan trying to get whiter teeth. At Mackenzie Dental, a few 15 minute sessions is all it takes.
ZOOM! teeth whitening treatments are in-office procedures, with great whitening results, and in just three 15-minute sessions. ZOOM! uses hydrogen peroxide that is light activated to lift stains, and allow the teeth to appear whiter. At the Mackenzie Dental Centre, results can often appear up to 8 shades whiter in less than an hour. The clinic can also provide patients with a convenient "take home" whitening system, with results that are apparent in as little as three days.
Benefits of Zoom Teeth Whitening at Mackenzie Dental Centre:
Personalized Approach to Whitening
Fast Results 3 x 15 Minute Sessions
Take Home Teeth Whitening Kits
Long Lasting Results (1-4 Years)
Safe for Enamel
Approved by Trusted Dentists in Vaughan
Safe & Professional Teeth Whitening Treatments in Vaughan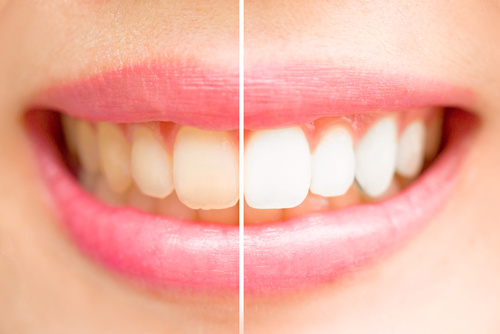 In recent years, teeth whitening treatments have become more and more common. Advanced whitening agents are safer than ever before, and deliver more effective results. From a cosmetic perspective, teeth whitening treatments are popular with everyone, and at every age. As such, demand for exceptional results is ever increasing – many patients have high expectations. The truth is, natural teeth are not supposed to be "super white", and every mouth is different.
Simply put, no procedure will make the teeth as white as snow. At the Mackenzie Dental Centre, the idea is to make teeth as white as possible - indeed, as white as the white of the eyes! For example, a patient with excessively yellow teeth could expect a normal shade of white in terms of an improvement. But even with the very best whitening treatment, results will vary - one patient may experience several shades of improvement, while another patient may experience very little.
Patients will experience discolored teeth for many reasons. It could be age; it could be diet; it could be smoking; it could even be a matter of genetics. But for whatever reason, teeth whitening should be handled by a professional, and under the supervision of a dentist. While whiter teeth are primarily a cosmetic treatment, an experienced dentist could well diagnose other underlying causes for the discoloration. In short, the dentist's office is the place for comprehensive care.
Professional teeth-whitening procedures have proven to be safe, without compromising the tooth enamel. Needless to say, the Mackenzie team will make every effort to deliver the best possible results. And while these results may vary with each patient, Mackenzie's teeth whitening dental clinic has had excellent outcomes overall. But for the long-term, personal care and maintenance is the key to optimum health: like a proper diet; and good oral hygiene; and visits to the dentist on a regular and ongoing basis.
Teeth Whitening In Vaughan
Aesthetics play a key role in how we feel about ourselves, and most people would agree that a whiter smile is more attractive than one with yellow or stained-looking teeth. Teeth whitening can dramatically boost your self-confidence and overall appearance, and with today's advanced technology, it's become a safe, effective and non-invasive treatment.
Contact Mackenzie Dental Centre today to speak to our dentists in Vaughan about how we can help you love your smile again!