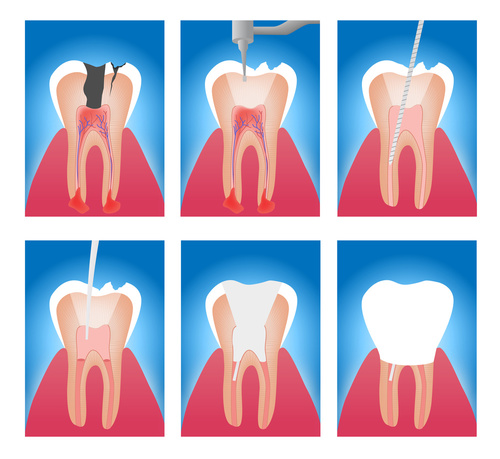 Root Canal Treatment
Save an Infected Tooth with Skilled Root Canal Treatments in Vaughan
Keep your teeth healthy for longer when you visit the trusted Root Canal Dentist in Woodbridge, Vaughan.
If you continue to experience tooth sensitivity to heat or cold or you are often shocked by intense and spontaneous tooth pain that stops you from comfortably eating or going about your life, then you may find relief with Root Canal Treatments. When performed by an experienced dentist in Vaughan like Dr. Pedvis and the Mackenzie Dental Centre team, Root Canal Treatments can erase the pain and prolong the lifespan of your tooth.
North of the GTA, the Mackenzie Dental Centre offers treatment for root canal in Vaughan. The treatment is designed to save a tooth that might otherwise have to be sacrificed. While healthy, natural teeth are safely encased in protective enamel, there are dental emergency situations when the inside of a tooth can become inflamed or infected. Oftentimes, this is when a root canal may be necessary.
Root canal treatment (endodontic surgery) is performed in order to save a tooth that might have to be sacrificed. Natural teeth are encased in white enamel, under which is a layer of dentin, which covers and protects the soft tissue pulp. The tooth pulp contains blood vessels that help the root to grow when that tooth is developing. A fully formed tooth can survive without pulp.
Who Are Root Canal Treatments For?
Root canal treatments are an effective option for people suffering from an inflamed or infected tooth pulp or root. Often, patients don't know that they have an infection within their tooth until it begins to disrupt their ability to live life comfortably.
Have you experienced…
Intense pain around your teeth?
Sensitivity to heat or cold that persists for 30 seconds or more?
Pain when there's contact with your tooth?
Swelling around teeth and gums?
Sudden fever?
Persistent bad breath?
You may have a pulp infection or pulpitis. Book a consultation with the leading dentist in Woodbridge at Mackenzie Dental Centre to learn if a root canal treatment option is an effective solution for you.
Tooth Damage Can Happen Inadvertently
By accident or injury, a tooth can be chipped or cracked, thus exposing it to damage and decay. In some cases, simple neglect can cause tooth decay, and again, damage can occur. Whatever the scope of damage, when tooth pulp is affected, restorative work must be undertaken. At the Mackenzie Dental Centre, treatment for root canal is one of the many procedures our dentists in Vaughan perform.
With a root canal, the surgery is aimed at the inside of the damaged tooth. It's a safe and effective procedure that delivers long lasting results. Under the professional care of Dr. Lloyd Pedvis, root canal in Vaughan can often be completed in one visit. Today, state-of-the-art dentistry and advanced equipment allows for root canal surgery that is less stressful and painful than ever.
There are various situations where tooth pulp can become inflamed and/or infected. Sometimes, it can happen inadvertently when a tooth has been chipped or cracked. It can also happen when there is severe tooth decay, or when the teeth have been neglected. Finally, it's possible that some trauma to the teeth (it could be for numerous reasons) can do serious damage to the pulp.
Stress-Free Root Canal Treatment in Vaughan
Years ago, patients were intimidated just by the thought of a root canal. But today, it's become almost a routine procedure. With professional care, the surgery is straightforward and the results are long-lasting. Root canal surgery will effectively repair and restore a natural tooth completely.
At the Mackenzie Dental Centre, every effort is made to ensure that root canal in Vaughan is both stress-free and pain-free. The clinic is a comfortable and relaxed environment, and Dr. Pedvis takes great care with every patient. There are various options available for moderate sedation.
Today, root canal treatment has become a routine procedure. For the team at the Mackenzie Dental Centre servicing Vaughan, Maple and Woodbridge, the aim is to save the natural tooth. Surgery is focused on the inside of the damaged tooth, and the procedure is safe and effective, with long-lasting outcomes. Under the care of Dr. Lloyd Pedvis, the Mackenzie team is proficient and experienced with this procedure.
Using state-of-the-art equipment, root canal surgery can often be completed in as little as one visit. Sometimes, there are patients who find the procedure intimidating, but with professional care and attention, it's a treatment protocol that's straightforward and worthwhile. Root canals will successfully repair and restore a natural tooth, and with results that should last a lifetime.
Saving a Decayed tooth with a Root Canal Dentist
During root canal treatment, damaged pulp is removed, and the insides of the tooth are cleaned and disinfected. The tooth is refilled with a special restorative substance, and resealed to protect the integrity of the newly restored tooth. Successful root canal treatment and restoration with a crown allows a tooth to feel and function normally - biting and chewing continues quite naturally.
Saving a damaged tooth is the main aim of a root canal procedure. But there are added benefits: additional damage is prevented; biting patterns are resumed; chewing capacity is returned; and there is no residual wear and tear on other teeth. Best of all, everything inside the mouth is as usual. And like all procedures, nitrous oxide, and or another sedative, can be used as required.
The objective of a root canal is to remove damaged pulp and restore integrity to the tooth. Once the tooth has been "refilled", it is resealed, and restored with a crown. The successful procedure allows the once-damaged tooth to feel and function like new (including biting and chewing).
While saving the tooth is the aim of a root canal, there are other benefits: biting patterns can return to normal; chewing capacity is restored; and there's no wear and tear on other teeth. Root canals allow everything to get back to normal – one of the best outcomes of the procedure.
Why Choose Mackenzie Dental Centre for Root Canal Treatments
Dr.Pedvis and the Mackenzie Dental Centre has been providing expert medical care for over 30 years. As one of the most trusted dentists in Woodbridge, we are dedicated to providing personalized care tailored to the needs of each patient. To ensure that we are always delivering the best, we use advanced technology and a refined approach. We are by your side, guiding you through the entire root canal treatment process from your first consultation to your after-procedure follow ups to ensure your on-track for a healthy future.
Contact Mackenzie Dental Centre today to speak to a knowledgeable root canal dentist in Vaughan.
Learn More About Root Canal Treatments in Vaughan