3Shape TRIOS Oral Scanner
The Mackenzie Dental Centre is leading the way in modern dentistry with another innovative piece of digital technology. The 3Shape TRIOS Oral Scanner provides you with a dental clinic experience in Vaughan that's faster and less intrusive than most of t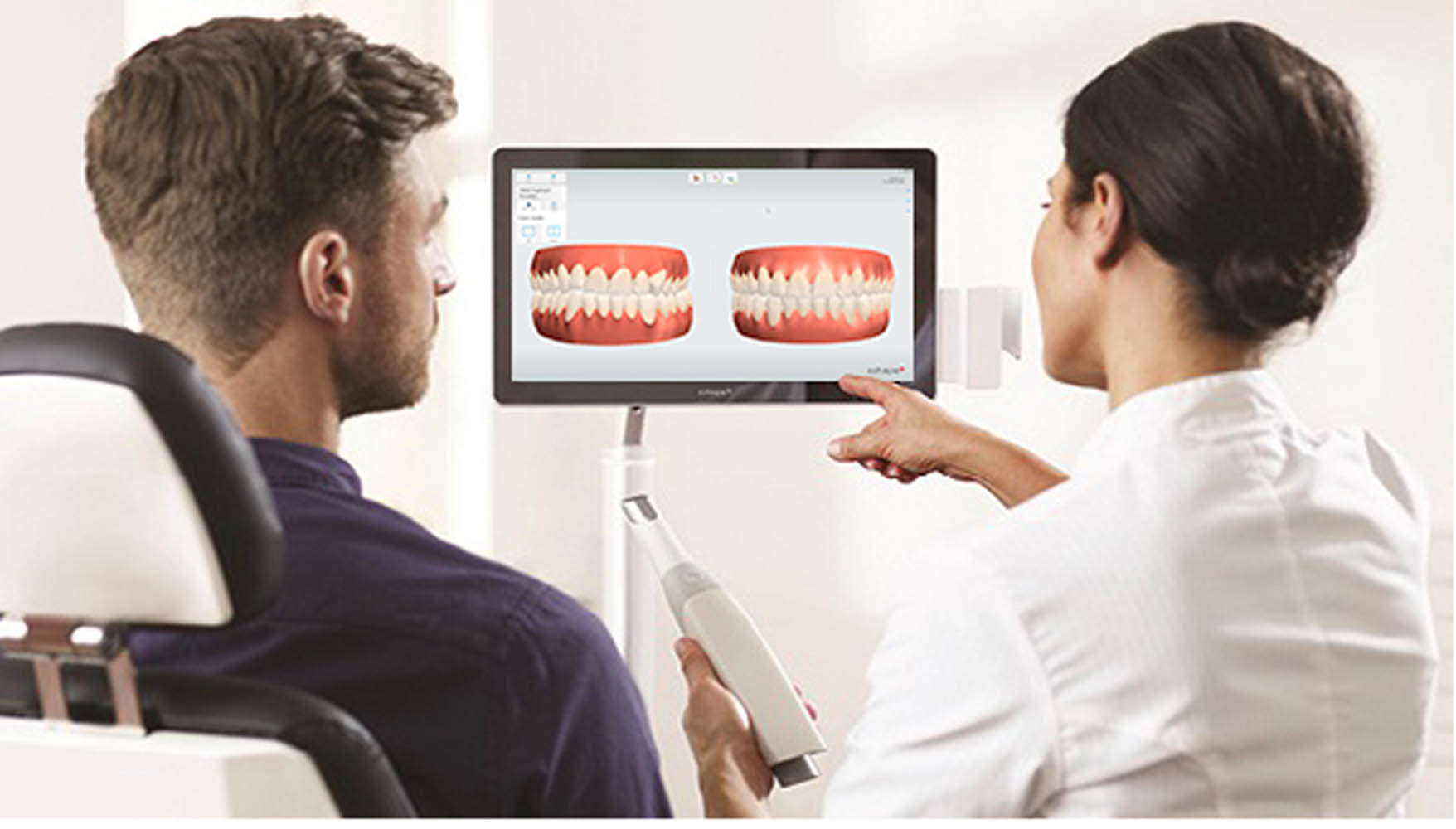 he conventional diagnostic tools being used today.
As a patient, you'll get diagnosed faster, and with less intrusion when the 3Shape TRIOS Oral Scanner is used. At the Mackenzie Dental Centre, Dr. Lloyd Pedvis can provide a comprehensive oral diagnosis in half the regular time and with the most vivid, high-quality digital impressions.
For Dr. Pedvis, the 3Shape TRIOS Oral Scanner allows for unparalleled diagnostic data, and an opportunity to better understand the possibilities for treatment. Patient comfort is enhanced significantly when using this technology, particularly with those who present some anxiety.
Superior dental care with the 3Shape TRIOS Oral Scanner
With the 3Shape TRIOS Oral Scanner, patients at the Mackenzie Dental Centre receive superior dental care that begins with the most comprehensive diagnostics available today. The advanced technology of the oral scanner challenges traditional dental approaches and allows dentists and dental professionals to diagnose and treat their patients much more effectively and efficiently.
Remarkable Scanning Speed
With exceptional accuracy, TRIOS scans can be twice as fast as traditional diagnostic options, allowing patients to be diagnosed much quicker. Overall image accuracy is highly enhanced.
Realistic Colours and Shades
TRIOS scans provide high-quality digital impressions, with lifelike colours that clearly identify oral issues. For the patient, this type of image accuracy allows for much better understanding.
Accurate View of Bite Patterns
With TRIOS it's possible to accurately capture biting patterns (in real-time) and record various biting positions. For many patients this presents realistic options for corrective treatments.
Leading Edge Exam Diagnosis
Recognized for technology excellence with a number of "Best in Class" awards, TRIOS provides patients with superior scanning technology and a dental clinic experience that is stress-free.
Ongoing Patient Monitoring
With TRIOS oral scans, changes in patient condition can be compared between clinic visits, thus allowing for precise patient monitoring. In this way, treatment progress can also be scrutinized.
Potential Cosmetic Options
For patients with cosmetic issues, TRIOS can provide a photo-realistic image for a "before/after" comparison. This is especially valuable for patients considering corrective orthodontic treatment.
Digital Impressions and 3D Printing of Crowns
With the 3Shape TRIOS Oral Scanner you no longer have to undergo uncomfortable impressions with dental materials that take up to 5 minutes to set. The 3Shape TRIOS Oral Scanner offers immediate digital imaging for instant impressions of your teeth. The digital impressions can then be sent to the lab the same day for the creation of: crowns, bridges, veneers, dentures, implants, aligners, inlays and more.
The Mackenzie Dental Centre offers the latest in diagnostic technology
At the Mackenzie Dental Centre, Dr. Pedvis and the team are at the forefront of patient care with many of the latest diagnostic technologies.
"I can show my patients a vivid, real time image of their mouth and teeth", explains Dr. Pedvis. "With the 3Shape TRIOS Oral Scanner, I can point out particular issues and problems, and discuss possible treatment options. Best of all, I can actually show my patients realistic outcomes post-treatment."
The fact is, the more precise the diagnosis, the more chance for proper treatment, and for Dr. Pedvis early diagnosis is the key to success. In Woodbridge and Vaughan, Dr. Pedvis offers patients a specialized approach to modern dentistry, with state-of-the-art technology and the latest advances in oral care. With a supportive team of dental professionals, Dr. Pedvis provides a variety of services, from routine exams, to restorative procedures, to oral surgery. Every patient is assured of a personalized approach to treatment.