Dentures
Missing teeth are problematic for a number of reasons - even though patients sometimes neglect treatment and overlook the need for a resolution. The truth is, missing teeth are more than just an aesthetic annoyance. From a purely physical standpoint, a missing tooth allows the adjacent teeth to shift unnaturally. As well, the empty space increases the potential for decay. And finally, missing teeth can set the stage for periodontal disease. Once diagnosed, an effective treatment for missing teeth is the installation of dentures. They are very effective and aesthetically pleasing.
Dentures are simply "artificial teeth" that are custom-designed to fill the spaces where teeth are missing. They are typically made from material like porcelain and acrylic resin, and are fabricated to match natural teeth. Depending on the patient, and the overall condition of the teeth, dentures can fill the empty space of one tooth, several teeth, or many teeth. Once completed, dentures are effective in improving biting an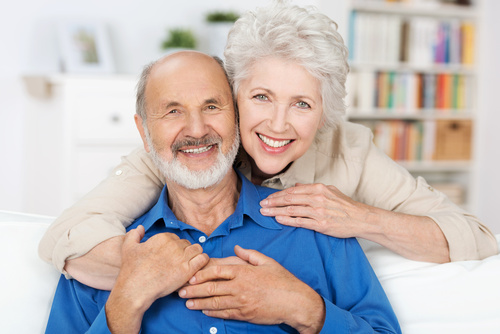 d chewing, in supporting facial muscles, even normalizing speech. Importantly, dentures provide stability to the jaw, preventing surrounding teeth from shifting.
At the Mackenzie Dental Centre servicing Vaughan, Woodbridge and Maple, Dr. Lloyd Pedvis carefully diagnoses every patient, and advises if dentures are the right approach. Since every patient condition is different, Dr. Pedvis assesses the value of the treatment and the potential outcomes. In some situations, this may entail "partial" dentures, while in other situations it may entail a "full" denture. In either case, the procedure will be fully reviewed with the patient, and considerations made regarding the extent of treatment and the process of healing and recovery. Long term, care and maintenance will be required.
Partial dentures are sometimes referred to as "removable" dentures. These are installed if the surrounding teeth aren't strong enough to hold a dental bridge, or when many teeth are missing. Partial dentures comprise an artificial tooth (or teeth) held together with clasps that attach onto the adjacent teeth. Partial dentures can be easily removed for proper cleaning during the night.
Complete dentures are commonly referred to as "false teeth." Also known as "full" dentures, they are used when all of the natural teeth are missing. These types of dentures are fully removable, and are typically held in place by suction. Complete dentures do require some getting used to, but provide excellent long-term results when no other treatment approach will work as effectively.
Dentures can also be installed in conjunction with implants. Here, the All-On-Four dental implant may be a viable option. In short, four implants are placed in the jaw, and a fixed denture is firmly secured to those four implants. It's a procedure that is less invasive than others, and allows the patient to quickly regain clear speech, restored biting/chewing, and even a brand new smile.
Clearly, dentures are more complex procedures than other dental treatments. In addition, when installation is complete, regular care and maintenance is essential. Like natural teeth, they must be thoroughly cleaned. But dentures need more - any superfluous build up of plaque can cause stains, bad breath, and even gum problems. As it is, a high level of oral maintenance is required.
Post-installation, the Mackenzie dental team will advise on proper upkeep and care of dentures. There are various cleaning implements that are recommended; various cleaning agents; and various cleaning techniques. Needless to say, a regular visit to the dentist is highly recommended – this will ensure that the appliance is fitting properly, and performing "as advertised".
Denture Services In Vaughan
Today, having a full set of teeth isn't just a preference. It's a necessity. A smile is an important part of one's identity, and when it comes to your smile, nothing but the best will do.
At Mackenzie Dental, we'd love to partner with you to restore function and form to your smile. If you're looking for dentures, make sure you visit our dental office in Vaughan for all your questions, concerns, and needs. Contact us to schedule a consultation.