Laser Dentistry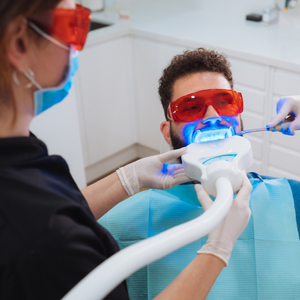 In every stream of medicine, laser technology has made advances. Laser Dentistry has also come a long way, and is currently being used on the teeth, on pockets of soft tissue, and on the gums. Laser technology allows for precision and accuracy when treating specific ailments. Beyond that, there is less swelling, and faster healing time. At the Mackenzie Dental Centre in Vaughan, Maple, and Woodbridge, Dr. Lloyd Pedvis uses a laser for a variety of treatments: everything from gum surgery; to treating herpetic sores; to contouring; to periodontal procedures. The best part is the excellent patient recovery time.
Laser Dentistry has noticeably improved patient service at the clinic. In a variety of oral surgeries and treatments, lasers have allowed for more effective restorative work, as well as more focused attention to the area that surrounds. This is all very good for a patient, particularly when comfort and wellbeing are the priority. Even with more invasive procedures, the addition of a laser device makes for a gentler treatment protocol, and less trauma for the patient. For a modern clinic like the Mackenzie Dental Centre, Laser Dentistry has allowed Dr. Pedvis to maintain a leading edge.
Lasers are both effective and efficient. There's less bleeding, swelling, and discomfort compared to other options, and healing results after surgery are also better. Importantly, lasers reduce the incidence of bacteria, and therefore lessen the occurrence of infection. For Dr. Pedvis, the Sirona SIROLaser® is the laser technology of choice, with great patient benefits, regardless of treatment or procedure. Versatile as it is, SIROLaser® delivers excellent outcomes with cosmetic dentistry, endodontic procedures, and periodontic treatments. It's ideal for patients with "dental anxiety".
Patient benefits when using the Sirona SIROLaser®
Expected accumulation of bacteria is reduced
Procedures performed without any anesthesia
Reduction of post-operative pain for patients
Less scarring surrounding the treatment area
Faster healing time - without need for stitches
Procedures/treatments completed in less time
Greater precision/accuracy during procedure
Improved recovery with less post-op swelling
Decreased bleeding (far less risk of infection)
In Vaughan Region, the Mackenzie Dental Centre services patients from Woodbridge, Vaughan, and Maple. Offering state-of-the-art dentistry for the entire family, Dr. Pedvis provides the entire spectrum of dental health care - from routine exams and cleanings, to cosmetic dentistry, to root canal treatment and surgery. Patients are assured of the highest quality of care, whether it's teeth whitening or something more invasive. Best of all, the environment at Mackenzie Dental Centre is comfortable and relaxing – an atmosphere that will satisfy even the most anxious of patients.
Dr. Pedvis is a current member of the Ontario Dental Association, as well as the Canadian Dental Association. As a member of the Royal College of Dental Surgeons of Ontario, he regularly attends advanced education programs, making every effort to keep up with the most current advances in dentistry. As for the Mackenzie dental team, Dr. Pedvis has assembled a group of professionals who are skilled and experienced. Our team of dentists in Vaughan have a passion for dentistry, and are focused on providing the highest standard of care for every patient.
Contact Mackenzie Dental Centre today to inquire more about our laser dentistry services offered to the Vaughan, Woodbridge and Maple communities.