Emergency Dentistry Vaughan
While preventing dental injuries is key to health and safety, dental emergencies do happen and are often unavoidable. With children in particular, a sense of panic can set in, and immediate emergency service is desirable. The important thing is to seek professional services from a dentist who specializes. For emergency dental services in Vaughan, the Mackenzie Dental Centre provides prompt, professional dentistry for emergencies of all types, and for the entire family.
Dr. Lloyd Pedvis is available throughout the week, and regularly with later hours.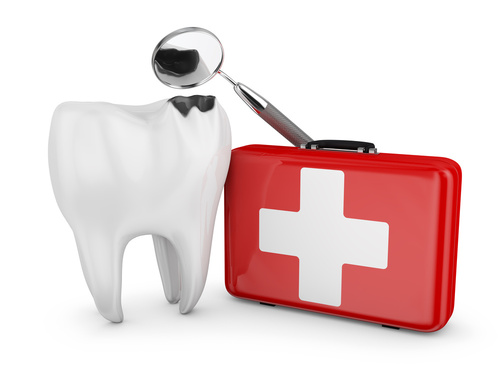 Monday – Tuesday 9AM - 8PM
Wednesday 9AM - 5PM
Thursday 8AM - 5PM
Friday 7AM - 1PM
Saturday 8AM - 3PM
Sunday Closed
Different types of dental emergencies
Dental emergencies present in numerous forms, and when children are involved, there's more worry and concern - it's just natural. For emergency dental services in Vaughan, Dr. Pedvis can treat a wide range of emergencies, and can provide the urgent care that's needed immediately.
A cracked or chipped tooth
A tooth that's knocked-out
Tooth injuries from sports
Badly bitten tongue or lips
An excruciating toothache
Object stuck between teeth
For unexpected accidents, mishaps, and emergencies, it's absolutely critical to call an emergency dentist
And in most situations, immediate care and attention is essential for a good outcome. In the Vaughan, Maple and Woodbridge area, Dr. Lloyd Pedvis and his dental team provide emergency dentistry in a timely and efficient manner. Whether it's a tooth gone "bad" or a sports injury, immediate care is key.
Dental emergencies occur for a variety of reasons, and with various symptoms. And when pain is associated, everyone has a different threshold. For some patients, a simple toothache might well qualify as an emergency. Here, it would be important to call the dentist, because it may be more serious than not. At the same time, a chipped or broken tooth would definitely be an emergency.
The most common types of teeth injuries from sports
While getting hurt in sports is sometimes inevitable, a sports injury that involves the teeth and mouth is whole different thing. The good news is that modern dentistry can repair and restore many of the most common injuries. With professional attention, the outcomes are promising.
CRACKED TEETH
A cracked tooth, or fractured tooth, is probably the most common sports injury. This injury is dramatically increased when participants don't wear mouth guards. With immediate care, teeth can be physically repaired and restored. Without - long-term problems can develop quickly.
FRACTURED ROOT
When a tooth injury is serious, it can cause a fractured root. Sometimes, fractures are invisible, and if left unattended can develop into infection. The sooner a root fracture receives attention, the better (like root canal therapy). Anything less could potentially lead to future tooth loss.
TOOTH INTRUSION
In sports, and especially with a serious blow, a tooth can be driven into the jawbone. Although this injury is less common, a tooth intrusion still requires emergency care. As it is, this type of injury is more common in children, and with their primary teeth, simply because of structure.
Identify the dental problem, assess the damage and initiate repairs
The idea with emergency dentistry is to identify the nature of the problem, assess the inherent damage, and initiate the necessary repairs. For example, a tooth knocked out in a sports incident might have two possible outcomes. With urgent emergency treatment, the tooth can actually be "saved". However, if there are hours of inattention, chances of "saving" the tooth are diminished.
For patients with something foreign stuck in their teeth, emergency dentistry may not be urgent, but dental attention is highly recommended. The aim is to diagnose the situation quickly, and to treat accordingly – after all, the sooner a treatment begins, the better the outcomes. The fact is, an experienced emergency dentist, along with a good dental team, can make a big difference.
Sometimes, an emergency situation is all about relieving excruciating pain for the short term, and getting ready for follow-up treatment. But regardless of the cause or symptom, emergency dental care doesn't necessary have to be from the regular family dentist. It needs to be from the dentist who can provide the most timely urgent care possible. And of course, time is of the essence.
Beyond a situation where pain is a factor, many patients get anxious and concerned with a dental emergency. This is where a reliable emergency dentist can be an advantage – someone to call for advice, for an action plan, even for a suggestion to go directly to the hospital. All patient questions are relevant, and a reliable dentist will be only too happy to provide the appropriate answers.
Today, in professional dentistry, there is some debate about what is and what isn't an emergency. However, for an ailing patient, the definition doesn't really matter, and a better dentist recognizes that attending to patient distress is the priority. To be sure, a broken bridge or cracked crown can certainly qualify for emergency dental care, including all of the repairs and restoration work.
Dental emergencies - whether in the home or on the rugby field - are an unexpected occurrence. It's one of the better reasons to have a good family dentist – a professional who can be relied on for emergency dental care when required. At the Mackenzie Dental Centre, Dr. Lloyd Pedvis can respond quickly to urgent need, and can provide the necessary treatment to address the issue.
About Mackenzie Dental Centre
The Mackenzie Dental Centre offers a wide range of services - from urgent care and emergencies, to cosmetic, to restorative. Treatments and procedures are personalized to suit the needs of each patient. The clinic employs state-of-the-art medical technology and remains at the forefront of modern dentistry, so that patients receive the highest quality of dental care.
As every patient is unique, the aim at the Mackenzie Dental Centre is to provide personal service. This includes everything from semi-annual dental examinations, to professional teeth whitening, to more complex procedures like implants and dentures. In addition, Dr. Pedvis offers root canal treatment, and where necessary, comprehensive full mouth reconstruction.
Many patients have found the clinic to be distinctively different. The environment is somewhat "spa-like" allowing for an atmosphere that is both soothing and relaxing. This is particularly important for patients (adults and children) who may have some previous anxieties. For the kids, the interactive KID-ZONE will keep them fully pre-occupied and carefree.
The Mackenzie Dental Centre offers extended clinic hours, as well as weekend availability, for patients who might require the flexibility, and for those unanticipated emergencies where urgent care is needed.
Dr. Lloyd Pedvis
Dr. Pedvis is a graduate of McGill University Faculty of Dentistry. He attended the University of Montreal's residency program in 1992, and has been in a private practice since then. Dr. Pedvis spent the first years of practice in the Ottawa area, and now serves the Woodbridge area through the Mackenzie Dental Centre.
A member of the Ontario Dental Association and the Canadian Dental Association, Dr. Pedvis is also a member of the Royal College of Dental Surgeons of Ontario. Of interest to a good number of patients is the Moderate Sedation that Dr. Pedvis can offer, especially for patients who may have some inherent anxieties.
Dr. Pedvis makes use of the latest medical technologies, along with the most advanced treatments and procedures available today. When it comes to emergencies and accidents, the focus is always on immediate diagnosis and appropriate follow-up. And this is where the Mackenzie Dental team is so integral to the cause.
With most dental emergencies, the Mackenzie Dental Centre can provide urgent care for children and adults alike. The clinic is well prepared to handle emergencies, and Dr. Pedvis always does his best to provide immediate care and attention. Where additional follow-up is required, this too is professionally managed.
Patients throughout Vaughan Region can rely on Dr. Pedvis and his proficient dental team for a high standard of dental care. Beyond urgent care and emergencies, new patients and walk-ins are welcome at the new clinic facility in Woodbridge. Located conveniently at Highway 400 and Major Mackenzie Drive, the clinic offers ample parking and wheelchair access. Dr. Pedvis is now serving Woodbridge, Vaughan and Maple. For more information, or to book an appointment call the clinic directly at 905-417-8700, or visit the website at www.mackenziedentalcentre.com.
Learn more about your emergency dentist in Woodbridge Dr. Pedvis.