Are you looking at dental veneers to enhance your smile? Veneers are a versatile option that can improve the appearance of uneven, stained, or crooked teeth. This minimally invasive procedure can give you the radiant, confident smile you've always desired. Though getting dental veneers does not require detailed groundwork, it's always better to be well-prepared. Let Mackenzie Dental's experienced dentists in Woodbridge guide you through the essential steps to a successful veneer experience.
Know Your Veneer Options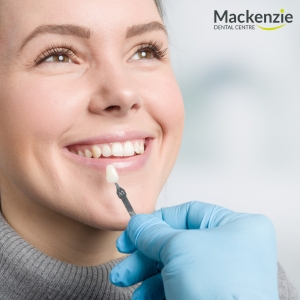 A wide range of dental veneer options are available to help you achieve your dream smile. The renowned dentists in Woodbridge at the Mackenzie Dental Centre specialize in premium dental veneers crafted from long-lasting porcelain, ceramic, and composite material. Learn about each option and select the one most suitable for your needs. Whether you prefer a wholesome natural look or a dramatic Hollywood smile, our custom selection caters to your individual preferences.
Learn How the Veneer Procedure Works
It's essential to clearly understand the procedure before getting dental veneers. Start by doing your research and familiarize yourself with the process. Dental veneers generally involve teeth prep, taking teeth impressions and getting customized veneers of your chosen material prepared at a laboratory. Your dentist will then position the veneer shells over the target teeth using an adhesive material and ensure a proper fit.
Ask Questions About Cosmetic Dentistry & Veneers
Don't hesitate to ask questions and seek clarification about cosmetic dentistry and dental veneers. The experienced dentists at Mackenzie Dental Centre are there to help you make informed decisions. Inquire about the benefits, potential risks, the longevity of the results, and the maintenance required for dental veneers. Understanding these aspects will help you set realistic expectations, calm dental anxieties, and ensure that veneers are the right choice for you.
Book a Day Off for Your Veneers
Plan for your dream veneers and book a day off from school, work or other commitments on the day of your veneer appointment. This will allow you to relax before and after the procedure, giving you adequate time to recover. You can also focus on the process without feeling rushed or stressed.
What to Expect During Prep
During the preparation stage, your dentist in Woodbridge may remove a small amount of enamel from the teeth' surface to create space for the veneers.
Adequate tooth reduction and re-shaping are crucial for a natural, seamless blend with adjacent teeth.
Smooth prep edges reduce unwanted stress or friction during the final restoration.
If your tooth has decayed portions, your orthodontist will trim those areas extensively.
The tooth reduction process is usually painless and generally performed under local anesthesia.
The dentist will then select the ideal shade for your veneers from their shade card by choosing the tooth shade that most closely matches the adjacent teeth.
Finally, impressions of the prepared teeth are taken. Temporary veneers may be fitted on the prepped teeth while your permanent dental veneers are under fabrication at a dental lab.
Your Mackenzie Dental specialist will guide you through each step to ensure your comfort throughout the procedure.
Discover the Secret to a Flawless Smile at Mackenzie Dental Centre
Getting dental veneers can be a breeze by planning and working closely with your dentist in Vaughan at Mackenzie Dental Centre. Trust our experienced dentists in Woodbridge to enhance your smile and get ready to conquer the world with your stunning new look! Start your journey to dental perfection with veneers from Mackenzie Dental Centre. Call now to schedule your dental veneer consultation!