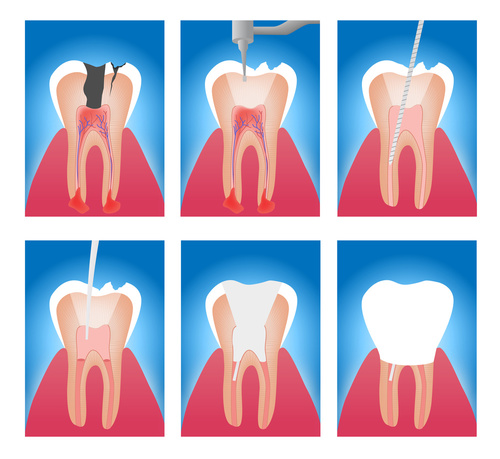 Because a root canal treatment is a complex dental procedure, it requires the expertise of a root canal dentist. The signs and symptoms vary from patient to patient and professional expertise are therefore required to properly diagnose.
Typically, the signs and symptoms of root canal problems don't emerge until the situation has deteriorated. That's why it's so important to visit your dentist on a regular basis while practicing on-going preventive dental maintenance.
Persistent Tooth Pain
Tooth pain is a primary indicator that something isn't right. If you're experiencing pain while eating, drinking, or chewing it's time for a dental appointment. A root canal dentist will examine your teeth and look for inflammation, another sign that something is not right. While there are various reasons for inflammation and pain, a diagnose will determine if a root canal is needed.
Chipped/Cracked Tooth
Teeth can chip or crack for a number of reasons – eating something hard; sports-related incident; or a previous dental procedure. A cracked or chipped tooth can easily expose the nerves below and can often lead to infection. Worst case, a root infection can enter the blood system and cause additional issues. Again, a root canal dentist can diagnose the cause and extent of the problem.
Heat or Cold Sensitivity
Another sign that is common with a root canal problem is tooth sensitivity. If your tooth hurts when drinking a hot drink or when eating something that's very cold, it could signal a problem. For some patients, symptomatic pain can start of dull and eventually become sharp and intense.
Gums that are Swollen
Swollen gums can develop for many reasons. When gums are swollen and painful, your dentist will examine the inflammation to determine the cause. In some cases, the signs and symptoms will point to a root canal issue, at which time the dentist will recommend a root canal treatment.
Tooth Discolouration
A discoloured tooth can be caused for several reasons: poor hygiene; stained enamel; or nerve damage. In situations where things have deteriorated, there could be a damaged root or nerve, both of which would likely require a root canal. Your dentist will decide on a course of action.
Prolonged Sensitivity
Prolonged tooth sensitivity, with irritation that is long-lasting, can be a sign of a damaged root. This type of condition does not heal on its own and therefore needs a proper diagnosis from your dentist. Here again, with a damaged root, the proper treatment would be a root canal treatment.
Root Canal Treatment at the Mackenzie Dental Centre
Root canal surgery is a safe and effective procedure with long-lasting results. Dr. Lloyd Pedvis is a root canal dentist serving patients in Vaughan. With state-of-the-art dental equipment, Dr. Pedvis performs root canal surgery that fully restores the integrity of a damaged tooth.
If you're looking for a root canal dentist during the COVID-19 pandemic, find out more about the Mackenzie Dental Centre by visiting the clinic website at www.mackenziedentalcentre.com.