A friendly and full smile is a significant factor that goes into high self-esteem, as it is often the first thing someone notices when interacting with you. We often find ourselves in situations that may lead to tooth loss. A dentist in Woodbridge can perform many methods of rejuvenating your smile to help. Dr. Lloyd Pedvis and his team at Mackenzie Dental offer many services that can assist in boosting your confidence. From dentures to veneers, dentists know what you need to restore your smile. Visit a professional today.
Explore the different solutions to a missing tooth below.
Dentures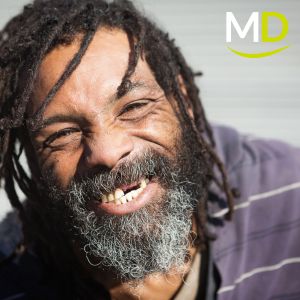 Contrary to popular belief, dentures are not just for elderly people. This restoration device can be beneficial to individuals who have one or multiple missing teeth. With its removable feature, you have the liberty to get a thorough clean to prevent plaque or leftover food from getting stuck in the creases. This method is best as it is a more simple and cost-effective option. There is also the ability to add to the dentures if you eventually lose additional teeth. Though this method is excellent for functionality and aesthetics, they are often less durable than more permanent solutions like veneers by a dentist.
Dental Bridge
The functionality of a bridge is to simply "bridge a gap." It takes perfectly healthy teeth on both sides of the missing tooth area and attaches a row of teeth to match perfectly with the rest of your teeth (colour, size and shape). Crowns are connected to the healthy teeth. Alternatively, dental implants can be installed so your natural and healthy teeth are unaffected; this is only a valid solution if you have multiple missing teeth. There are a variety of different types of tooth bridges, so be sure to visit your dentist in Woodbridge to determine which one is best for you and your situation.
Dental Implants
Dental Implants are the most common solution to missing teeth as it is the most durable and best resemble a natural tooth. It is a permanent solution, but it requires minimal maintenance work. With proper cleaning, it can last you a lifetime. The procedure consists of:
Replacing the tooth root: a titanium rod is inserted into the gum to create stability for the tooth.
Let it stabilize: allow the gums to get acclimatized with the metal rod and secure it over the next few months.
Install the crown: one the root is stabilized, you can place the crown onto the screw to complete your smile.
This method is best if you miss an individual tooth, as they are only installed individually. Keep in mind that due to the permanency of this procedure, it is more invasive than others.
Tooth Replacement with Mackenzie Dental Centre
Boost your confidence with Mackenzie Dental today. Explore the many procedures that we offer, from dentures to general dental services. Dr. Pedvis and his team aim to provide all patients with the most accommodating dental experience possible. If you want to restore your smile, contact the team or visit our Woodbridge location.