Your Trusted Dentist in Vellore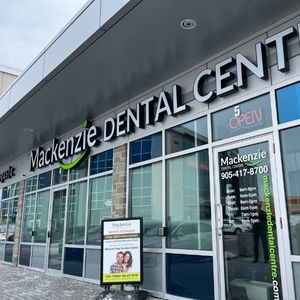 When you need a dentist for you or your family, don't go far. Dr.Lloyd Pedvis and Mackenzie Dental Centre is a leading neighbourhood dentist offering a range of services, from cosmetic dentistry in Vellore to urgent emergency dentistry.
Nestled in the heart of the Vellore neighbourhood, Mackenzie Dental Centre is a state-of-the-art dental clinic in Vaughan, equipped with advanced technology, including digital scanners and 3D printers, that enable our team to deliver top-tier care to our patients throughout the community.
Family Dentistry in Vellore
Your family is the most important to you. Whether you need a professional specializing in children's dentistry for your kids or someone who understands the implications of aging on dental health and knows how to extend the longevity of your smiles, you can count on Dr. Lloyd Pedvis and the Mackenzie Dental Centre team.
From cavities to regular exams, our team is experts at all your general dental needs for all ages. Using leading X-Ray technology and experienced dental exam techniques, you can be confident that you and your loved ones are receiving the highest level of care.
Emergency Dental Care in Vellore
While most offices have set hours, dental emergencies can happen anytime. When they do, your local dentist in Vellore is here to help. Our emergency dentist is available to treat you when you need a dental professional fast.
Are You Having a Dental Emergency?
Dental emergencies happen fast. If you notice these signs, contact Mackenzie Dental Centre fast:
Constant severe tooth or gum pain
Chipped or missing teeth
A foreign object lodged in between teeth
Excessive oral bleeding
Fevers and tooth abscesses
Don't panic. Call our dentists in Vellore for reliable treatment for your emergency dental needs.
Cosmetic Dentistry in Vellore
If you don't love your teeth, your trusted cosmetic dentist in Vellore at Mackenzie Dental Centre can help you fall back in love with your smile. Get brighter, whiter, and fuller smiles with a range of cosmetic dental services, including teeth whitening, veneers, and dental implants.
Veneers: Entirely cosmetic procedures resurface teeth for a flusher and neater finish. We offer composite and porcelain veneers. If you feel like your teeth or too crooked, uneven, big, or small, dental veneers are perfect for you.
Implants: A missing tooth can leave many people feeling less than confident about their smile. Advanced dental implants and crowns can give you a long-lasting tooth replacement that offers the beauty and functionality of a long-lasting smile.
Tooth Whitening: If you don't feel like your smile is as bright and white as it can be, tooth whitening cosmetic services at Mackenzie Dental Centre can elevate your smile. With quick, easy, and effective ZOOM teeth whitening, you can enhance the colour of your teeth in just minutes.
Choose Mackenzie Dental Centre in Vellore
Dr.Lloyd Pedvis and Mackenzie Dental Centre have been serving the Vellore community as a trusted dentist near Woodbridge, Vaughan, for decades. With the leading technology, experienced professionals, and a central location, you can rely on our team for premium care.