If you are looking to improve the appearance of your teeth, dental veneers may be the right option for you. Veneers can refine the aesthetics of a smile while protecting the tooth's surface from damage. Not only do they look great, but they preserve enamel-worn teeth and prevent additional decay and wear. Dental veneers are one of the most highly requested cosmetic dental procedures offered by our dentists in Woodbridge. If you are considering getting veneers at Mackenzie Dental Centre, you also will want to know how to take care of them properly. Below we discuss six practical ways to care for your veneers to keep them lasting long and looking great.
What Are Veneers?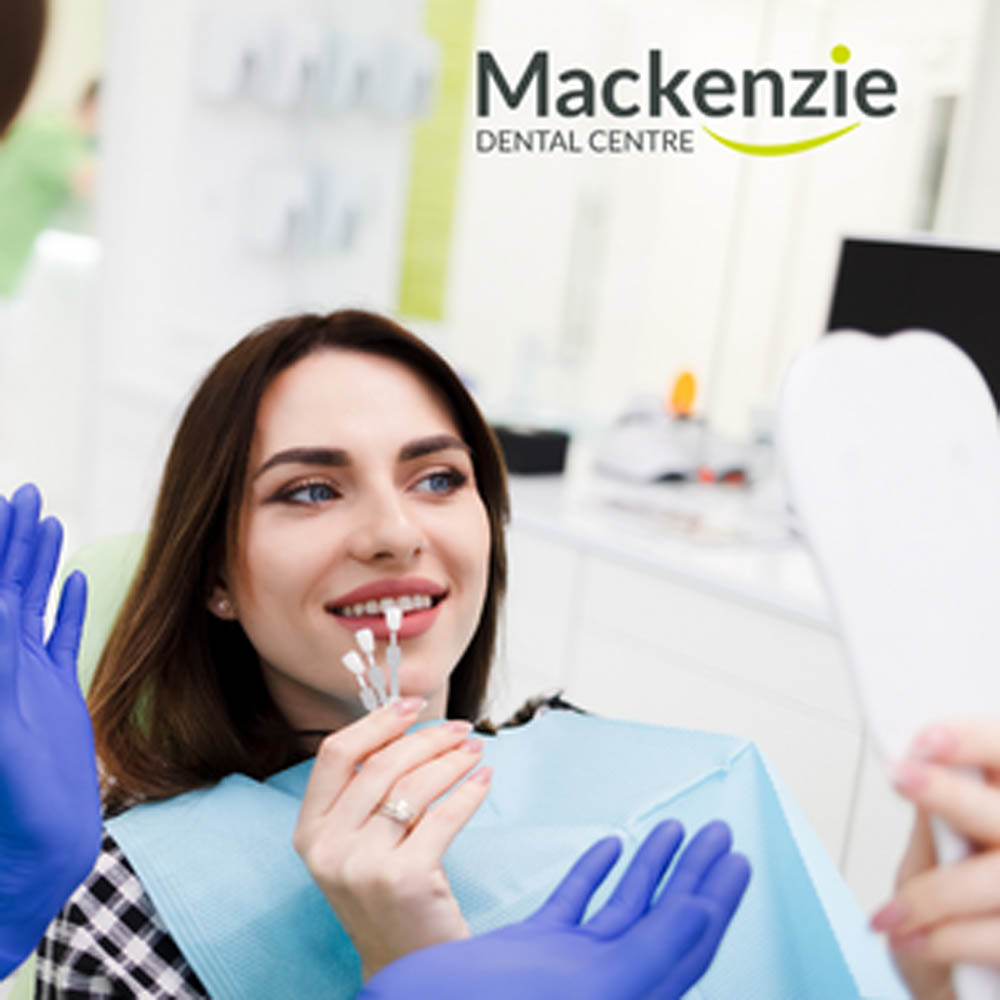 A veneer is a thin layer of material placed over a tooth in dentistry. It is a custom-made shell of tooth-coloured materials designed to cover the front surface of your teeth to amplify the appearance of your smile. At Mackenzie Dental Centre, we offer dental veneers that can correct discolouration, unevenly shaped or sized teeth, damaged teeth, crooked or overlapping teeth, or teeth with gaps between them. Dental veneers may also help with tooth sensitivity to hot or cold foods or drinks.
Composite Veneers Vs. Porcelain Veneers
There are two main types of material used to form a dental veneer: composite and dental porcelain. When choosing the suitable veneer for you, it is essential to consider the material. Both materials present a beautiful natural appearance.
Composite Veneers
Composite veneers are engineering resin attached to the tooth's outer surface. They are great for fixing a few chipped or crooked teeth.
Porcelain Veneers
Porcelain veneers are thin shells of porcelain that adhere to the tooth's outer surface. If you are looking to change the appearance of several teeth, this option may be better for you as porcelain veneers are likely to be stronger.
How to Take Care of Your Veneers
If you want your dental veneers to last long, you need to ensure that you adequately care for them. Here are some tips to help you care for your dental veneers.
Practice proper oral hygiene: Brushing twice a day, every day and taking care of your overall oral health prolongs the life of your veneers.
Use a soft toothbrush: If you have porcelain veneers, you must use a soft toothbrush when brushing your teeth. Hard-bristled toothbrushes can cause the polish on your veneers to damage.
Visit the dentist 2-3 times each year: If you want your veneers to stay flawless, it is vital to visit your dentist for checkups and cleanings.
Avoid grinding or clenching your teeth: Grinding or clenching your teeth can wear down and can cause damage to your dental veneers.
Avoid chewing on objects that can damage your teeth: Although porcelain veneers are strong, they are not as strong as teeth. Try not to chew on hard objects such as ice, pencils, or pens as it can chip your dental veneer.
Quit Smoking: Smoking may cause your veneers to become stained or discoloured. If you want them to look their best, smoking is not ideal.
Dental veneers can dramatically improve the appearance of your teeth and confidence. Our dentists in Woodbridge are here to provide you with a beautiful smile that fits your needs.
Book a consultation with Mackenzie Dental Centre to discuss any questions or concerns you may have.