Summer is a time to enjoy yourself with minimal restrictions. From having fun around the pool to all the sugary goodness you consume, dental emergencies can be more common during the summer. Whether it occurs on vacation or in your backyard, knowing the steps to help alleviate pain and discomfort is essential. If you are ever seeking an emergency dentist in Vaughan, call Mackenzie Dental Centre, available 24 hours a day, providing emergency dental services for all ages.
Don't hesitate to visit a dentist in Vaughan if you seek help. Read more about dental emergencies and how to treat them.
Most Common Types of Dental Emergencies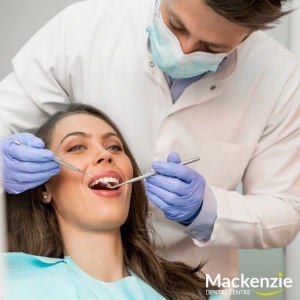 In general, we can see all types of dental emergencies. Some universal ones we find in the summer include:
Toothaches: can be caused by tooth decay or gum disease that can cause severe pain and should be treated promptly.
Cracked tooth: this can be caused by trauma to the mouth or accidents. It can be treated by a veneer, bonding or a crown.
Knocked-out tooth: Be sure to salvage the lost tooth from your accident or trauma, as it can be reinserted. If not, a dental implant will be inserted.
Many of these can occur from the variety of summer activities you can partake in, such as biking, surfing or eating sweet treats. If you experience these hardships, contact your local dentist to help you find a solution.
Avoiding Dental Emergencies
There are many ways to prevent dental emergencies. It's essential to be careful when participating in physical activities, as they are the most common way to result in a dental emergency. If you find yourself around the pool all summer, practice pool safety in and out of the water. When playing sports, especially contact, protect your teeth with a mouthguard.
Staying on top of your oral hygiene regimen is essential with the carnival season and the delicious frozen sweets we indulge in during the summer. Brushing at least twice daily is recommended to keep your teeth clean and healthy. If you want to take extra precautions, opt for more nutritious, refreshing snacks like fruits or vegetables, which contain sugars that will deteriorate your teeth and nourish them too.
It's key to keep your teeth healthy, so booking regular dental appointments throughout the year is best to check on the status of your teeth.
How to Treat Dental Emergencies on Vacation
If you are on vacation and experiencing a dental emergency, the first thing to do is contact your dentist. They can help guide you through the process to get you to better health. It's best to avoid any activities as this can create even more discomfort. If you are swollen, rinse your mouth with cold water and apply a cold compress to reduce it, and lastly, take a painkiller, only if it's instructed by your dentist, to subside the pain. Book an appointment before vacation to ensure you are travelling with healthy teeth.
Mackenzie Dental Centre for Emergency Services in Woodbridge, Vaughan
Don't let oral discomfort ruin your summer. If you are looking for an emergency dentist, contact Mackenzie Dental Centre. Our team of dentists in Woodbridge, Vaughan are here for you 24 hours a day to answer your call.