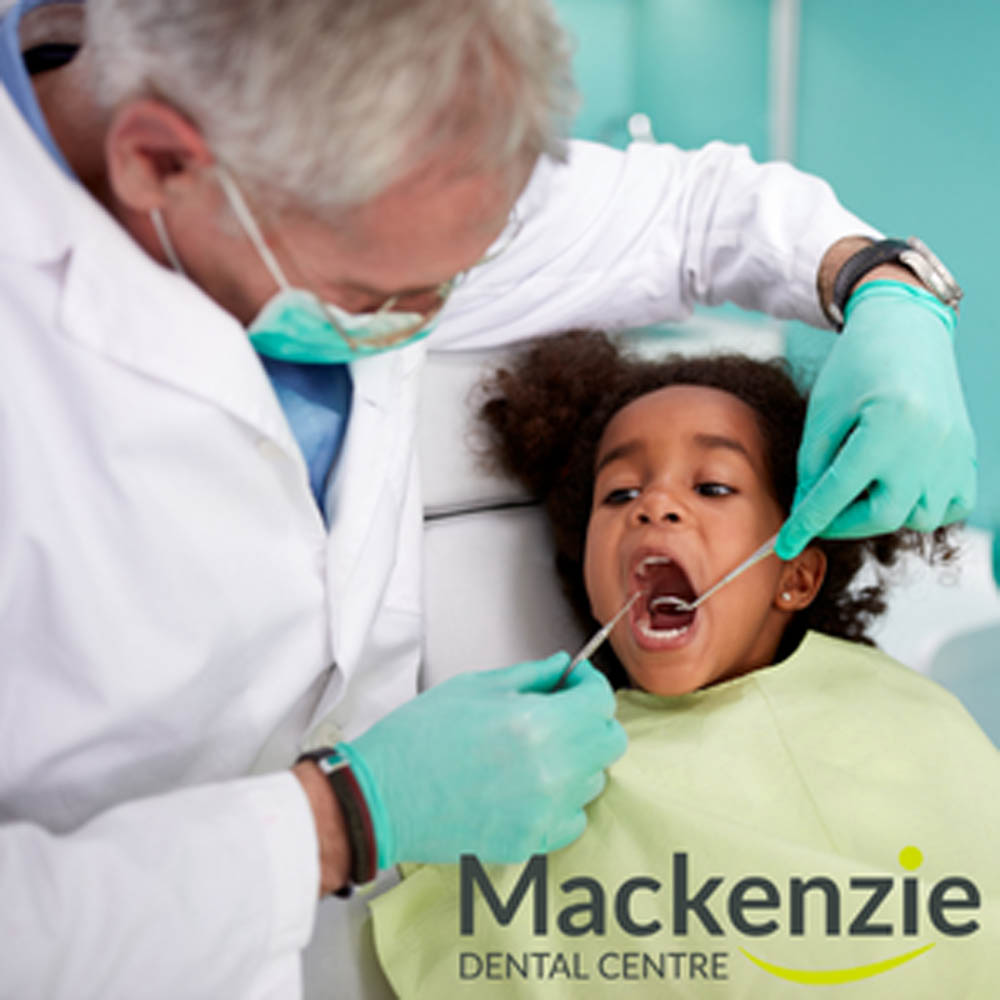 As a parent, you want to do all you can to take care of your child and keep them happy and healthy. It is vital for children to take care of their oral health by brushing their teeth and visiting a kids' dentist in Vaughan. Mackenzie Dental Centre is a leading pediatric/kid dentist in Vaughan and Woodbridge.
In order to achieve the best oral hygiene for kids and find out if they are at risk, focus on education from an early age. Work with your child's pediatric dentist to help them achieve the best oral hygiene possible and develop a habit of good oral hygiene early.
The Mackenzie Dental Centre offers a full range of dental services for children, including dental hygiene for kids, pediatric dentistry, early childhood dentistry and emergency dentistry in Woodbridge, Vaughan.
Keeping your tot's teeth and gums healthy is essential, but it may be easier said than done. With so many recommended dental hygiene practices to follow- brushing twice a day, flossing once a day, cutting back on sweets, and even limiting screen time- it can be tough to know what's truly necessary and what simply falls flat from the get-go.
With that said, here are some tips for helping your child develop healthy oral hygiene habits that he or she is sure to love.
Useful Tips For Your Child's Oral Hygiene
Set a good example. Speak positively about having "healthy teeth" and "clean teeth." Positive reinforcement goes a long way when it comes to instilling positive habits.
Respect the dentist's advice. When visiting the dentist with your child, take note of any recommendations and follow up on them.
Make sure your child is using the right type of toothbrush and toothpaste. The American Dental Association (ADA) recommends using a soft-bristled toothbrush specifically designed for children and fluoride toothpaste.
Encourage your child to brush their teeth twice a day for two minutes each time.
Help them floss once a day. Flossing removes plaque and bacteria from between the teeth and below the gum line where a toothbrush can't reach.
Regular dental checkups are important, so make sure you schedule appointments for your child every six months.
Dealing With Dental Anxiety in Kids
Going to the kid dentist in Vaughan is a routine part of growing up for most children. However, some kids are apprehensive about a trip to the dentist, especially an emergency dentist in Woodbridge, Vaughan. Understanding your child's anxieties and concerns can help alleviate them.
Here are some helpful tips on how you can prepare your child for the dentist:
Before you arrive at the dentist's office, remind your child that you will be waiting right outside the door. This lets your child know that they aren't alone.
If your child is anxious about a visit to the dentist, try to be understanding and reassuring. Dentists are skilled in helping children feel comfortable, and they will work with you to make sure your child has a positive experience.
You can help prepare your child for a visit to the dentist by discussing what will happen at the appointment. Explain that the dentist will look at their teeth and gums and may clean their teeth or give them a check-up.
Let them know that there may be some noise or sensations associated with dental procedures but that these are short-lived and nothing to be afraid of.
Some common anxieties that children may have include:
Fear of pain
Fear of the unknown
Anxiety about being separated from parents or caregivers
Final Tips On Your Childs' Oral Hygiene
It can also be helpful to practice oral hygiene routines together at home so that your child becomes familiar with the sensation of having their teeth brushed or flossed. This will help them feel more comfortable and confident when they have to do it on their own. You can start by brushing your child's teeth for them until they are old enough to do it themselves and then gradually transition to having them do it themselves.
Mackenzie Dental Center is proud to offer advanced dental hygiene services to children in Woodbridge and Vaughan areas. Contact us today about scheduling a check-up with our kids' dentist in Vaughan.