Many of us had to wear braces for about two years to achieve the perfect smile. With monthly appointments to constantly get them tightened was a pain that no one wanted to experience. What if there were alternatives for braces that were less noticeable and less hassle? Dr. Lloyd Pedvis is a dentist in Woodbridge at Mackenzie Dental Centre, where they provide a wide range of cosmetic dentistry procedures to get you feeling confident about your smile, from dental veneers to teeth-whitening.
Read on to learn more about alternatives for braces.
Dental Veneers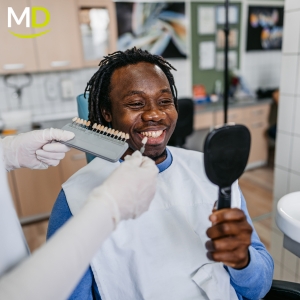 Dental veneers are a great way to perfect your smile. Dentists will only perform this procedure if your teeth are slightly crooked or have few spaces between them. Veneers are porcelain caps that are secured over your teeth. Before the application, your dentist must shave down your tooth for the veneer to fit. Keep in mind that once you choose to undergo this procedure, you cannot go back to your natural teeth.
Veneers provide you with permanent results, meaning they will stay white. No need to whiten them. If you whiten your natural teeth surrounding the veneers, they won't get damaged. Dentists don't recommend getting a complete set of veneers. They are typically only needed for a few teeth.
Invisalign
Invisalign® is essentially the clear version of braces. However, if your teeth need serious readjusting, it's best to consult your dentist for the best advice for your situation.
A significant benefit to Invisalign is the pain. Patients say that metal braces are much more painful than Invisalign®. With shifting teeth throughout your years, even if you had braces when you were younger, you can still choose to start your Invisalign® journey.
When it comes to braces, overall, there are more visits to the dentist. On top of that, with Invisalign®, you are less likely to have wear and tear as the clear aligners are not worn when eating.
Overall, Invisalign® is a better option for people with faster and busier lifestyles, as it requires less maintenance.
Retainer
It is rare for a dentist to recommend a retainer; however, if your teeth are naturally very straight, a retainer may be suitable for you. This method can fix minor issues with your teeth that may include one or two teeth or prevent your teeth from shifting. These are typically given to patients right after braces to ensure the results don't undo. Retainers are removable mouthpieces; therefore, there is minimal wear and tear, and dentist appointments are less frequent.
Choose Mackenzie Dental Centre for Cosmetic Dentistry
It's important to know what options you have when it comes to your teeth to choose the best fit for you. Dr. Lloyd Pedvis and his team are eager to get their patients to their best smiles. With expert advice and over 60 years of experience, we can assist you, whether it's dental emergencies or a simple checkup. Book an appointment today or come visit our office in Woodbridge.