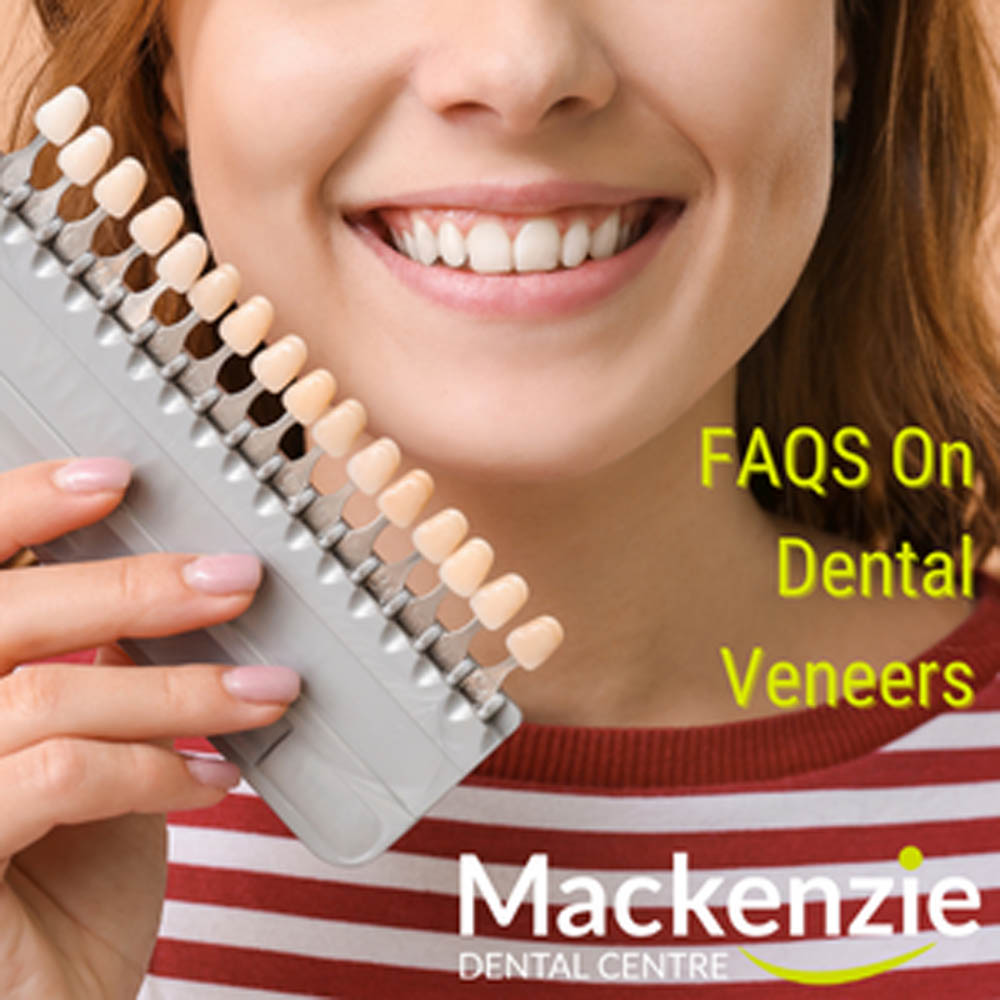 Dental veneers, composite veneers, and porcelain veneers are among the most common dental procedures in our Woodbridge dental office. The recovery time for this procedure is relatively short, with most patients able to return to work or other daily activities within 24 hours.
The best way to get started with possibly getting dental veneers is to schedule a consultation with our dentists in Vaughan. We'll take the time to understand your dental concerns while educating you on your treatment options of dental veneers, composite veneers vs. porcelain veneers.
If you think you can benefit from dental veneers, ask our staff about them next time you visit Mackenzie Dental Centre.
Here are answers to some of the most common questions about dental veneers.
How are dental veneers different from dental implants?

A dental implant comprises an artificial tooth root inserted into the jaw, while a cosmetic veneer is affixed to the front portion of your natural teeth with glue.

What types of dental veneers are there?

There are a variety of dental veneers available at our Woodbridge dental office. They can be made out of a durable surface material, ideally porcelain or acrylic, and inserted onto the front teeth. Porcelain is usually more expensive but has a natural appearance, whereas many people who use acrylic veneers say they look painted on. Our Woodbridge dental office can provide all types of materials for you to choose from so that you can customize your smile with veneers suited for your budget and personal preferences.

Differences between porcelain veneers vs. composite veneers?

Porcelain veneers are injection-molded, but composite veneers are constructed from a combination of materials such as resin and porcelain. Porcelain can be stain-resistant and allow for greater transparency than composite.

Will I be in pain after my dental veneers?

No. They are placed over your existing teeth and are usually completed in only one appointment. Most patients receive no anesthesia and absolutely no discomfort during the procedure.

Are there any risks associated with dental veneers?

Some risks are associated with any cosmetic dentistry procedure, including those involving whitening, crowns, and bridges. However, the good news is that we perform dental veneers regularly and have yet to experience any complications or issues.

When are dental veneers often recommended by dentists?

Dentists often recommend a dental veneer for those who need to improve the alignment of their teeth and the colour of their imperfections. They can help with stains on teeth, chips in teeth, misshapen objects such as bumps along the gum line, and gaps between one's two front teeth or side-by-side rows of unevenly spaced white school permanent tooth surfaces.
Mackenzie Dental Centre is committed to making your dental needs a priority. We strive to do so by offering a comfortable and relaxed environment at our Woodbridge dental office. We understand how important it is for you to feel confident and beautiful about yourself. That's why we offer a number of cosmetic dentistry services, such as teeth whitening, dental implants, dental veneers, composite veneers, and porcelain veneers. Contact us today to schedule your consultation.