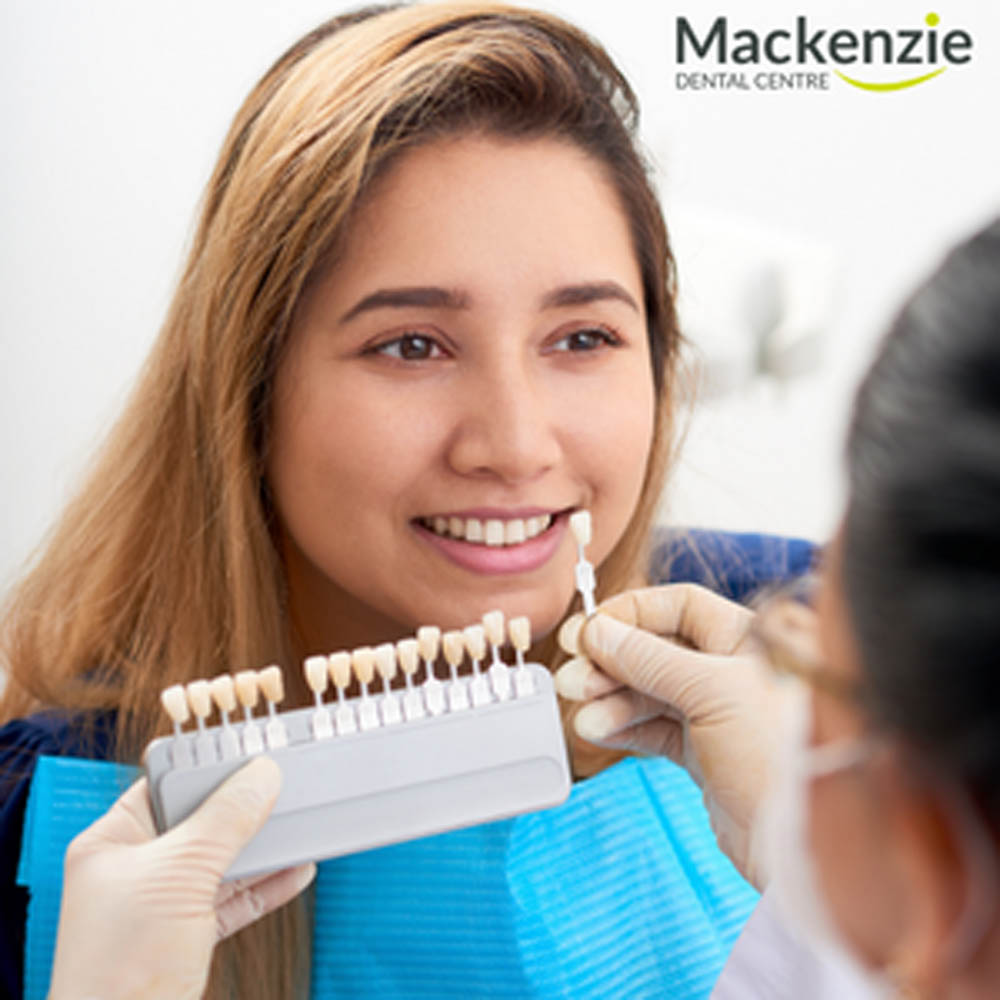 A smile transformation is just one of the many reasons why dental veneers are so popular. Veneers are thin, custom-made shells that are bonded to the front of teeth to improve appearance.
Contrary to popular belief, dental veneers don't hide your teeth entirely, they simply enhance the appearance of your teeth. They also come in a wide range of colours and can be used to cover up discolouration or stains, chips or gaps between teeth. If your teeth don't present the image you want, dental veneers can be an opportunity to re-establish your confidence. Contact the veneers dentists at Mackenzie Dental today to learn more about it!
More Than A Cosmetic Procedure
Dental veneers are often confused with other cosmetic procedures like whitening or bonding. While these types of procedures can certainly help make a smile more beautiful, they don't necessarily fix the underlying cause of its flaws.
Veneers can be used to correct varying degrees of oral issues including:
Discoloured teeth
Chipped Teeth
Crooked Teeth
Naturally Gray Teeth
Unsightly gaps between teeth
What To Consider Before Getting Veneers
While veneers can be a great solution for a variety of dental issues, they aren't a perfect fit for everyone. Talking to a dentist in Vaughan about your interest in veneers is a good starting point.
Before being fitted with veneers patients must have a professional examination and may have to undergo X-rays and test for tooth decay. This helps ensure that your smile transformation will last as long as it can.
However, before getting veneers, it is important to consider four things: 1) Your Bite, 2) Your Teeth, 3) Your Gum Health and 4) The Cost.
1. Your Biting Habits
If you do not like biting chewing gum or often grind your teeth, then the dentist will advise you not to get veneers. And this is because, if you have a bad habit of grinding your teeth, your dentist will recommend a plastic dental night guard while sleeping. It is so because the veneer might get chipped. And if you clench your teeth, your dentist may suggest wearing a plastic guard at night while sleeping for a certain period of time.
2. Your Teeth
If your teeth are too small to support the size of the veneer required to make your teeth look white, you might risk your natural tooth structure being weakened by the porcelain.
3. Your Gum Health
When you have gum problems, they often impact the fit of your veneers altogether. If you have gum problems, you may want to improve your gum health first before getting veneers.
4. The Cost
The cost of veneers can run into thousands of dollars. If you're not sure that you'll be happy with the results or if you're not sure that your bite or other dental issues will be suited for porcelain veneers, then you may want to reconsider getting them.
You can talk to a veneers dentist about these four things before making an appointment for a consultation and getting possible veneer treatment.
Advances in cosmetic dentistry have made it possible for a lot of people to get the smile they want. However, there's a lot of confusion about what these treatments involve and how effective they can be. Contact Mackenzie Dental Centre to get all your questions about veneers answered by a professional dentist in Vaughan.