If you feel uncomfortable at the mere thought of undergoing dental treatment, you're not alone. Many Canadians have severe dental anxiety that makes them fear dental treatment. Thankfully, laser dentistry can help soothe your stress and make the process comfortable and, in many cases, pain-free. The ability to visit a reliable dentist nearby is critical in the case of a dental emergency. Laser dentistry at Mackenzie Dental Centre is a superior alternative that gives patients in Vaughan around Maple and Woodbridge access to the treatments they need. Read on to discover the many benefits of laser dentistry and how it helps with dental anxiety.
Laser Dentistry: How it Works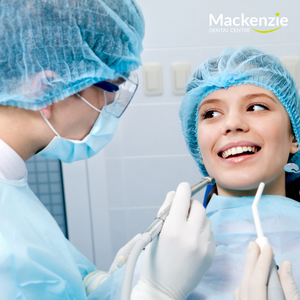 As the name suggests, laser dentistry involves using cutting-edge technology for dental procedures. Lasers transfer energy through light to vapourize soft tissues and cut through the hard tissues in your mouth. Laser dentistry causes minimal discomfort and pain compared to dental drills and traditional dental procedures. Laser dentistry can be a game changer for dental anxiety, whether you have a dental emergency or require regular dental treatment. Some standard dental procedures that can be performed with lasers include:
Treating tooth decay.
Treatment of gum diseases and surgery.
Teeth whitening procedures.
Treatment of herpetic sores.
Tooth contouring.
Preparing teeth for composite bonding.
Safely removing surrounding tissue for removing an impacted wisdom tooth.
Removing muscle attachments that hamper tongue or lip movement.
Laser Dentistry: How it Can Help with Dental Anxiety
Reduced Need for Anesthesia: Laser dentistry enables your dentist to undertake many dental treatments with minimal or no anesthesia. It provides a comfortable and convenient dental experience with a reduced need for anesthetics.
Greater Precision: The leading-edge technology used in laser dentistry provides greater control and precision
while performing dental procedures. While rotary drills are versatile and allow a wide range of dental tasks, they lack the accuracy of lasers. This also means less scarring around the dental treatment area using lasers.
Fewer Needles & Drills: For those with dental anxiety, probably the best part about using lasers is fewer needles and drills. Laser dentistry harnesses laser energy with a combination of water and air. This serves the dual purpose of in-process hydration of the gums & teeth and protection from the laser heat. The end result is a far more comfortable and almost painless experience. You can bid goodbye to those scary needles and annoying drills with laser dentistry. You can relax as there are no jarring vibrations or the consistent pressure of a dental drill.
Faster Processes & Lesser Bleeding: The greater precision offered by laser dentistry allows for accurate and fast work. As lasers are less invasive, multiple procedures can be completed quickly. Thus, you may require fewer appointments than traditional orthodontic treatments. Lasers also work without surgical incisions, so much less blood is released during surgery. In fact, the laser's heat cauterizes the wound resulting in lesser bleeding.
Shorter Recovery Time & Lower Infection Risk: As laser dentistry results in lesser bleeding and swelling, you can expect a swift recovery period and lower chances of post-treatment infection.
Lessen Dental Anxiety with Laser Dentistry from Mackenzie Dental
Now that you know the advantages of laser dentistry, consult your friendly dentist at Mackenzie Dental. Laser technology can not only soothe anxiety and enhance your treatment but also give you a healthier, dazzling smile! Reach out to Dr. Pedvis and his experienced team to discover the incredible benefits of laser dentistry.
Whether it's a dental emergency or a regular orthodontic procedure, connect with Mackenzie Dental for laser dentistry options today!