Studies show that people smile on average about 20 times per day. Your smile plays a significant role in how you feel about yourself and how the world around views you. Sometimes despite your best efforts, from brushing your teeth twice a day to regular use of whitening strips, it can be difficult to achieve the bright, white colour seen on magazines and television. If you can't get the smile you want, not all hope is lost. Cosmetic dental implant and veneer dentists in Woodbridge offer a range of services to give you the smile of your dreams.
If you're ashamed of stained teeth, here is how the veneer dentists in Woodbridge at Mackenzie Dental Centre can change that.
What Causes Stained Teeth?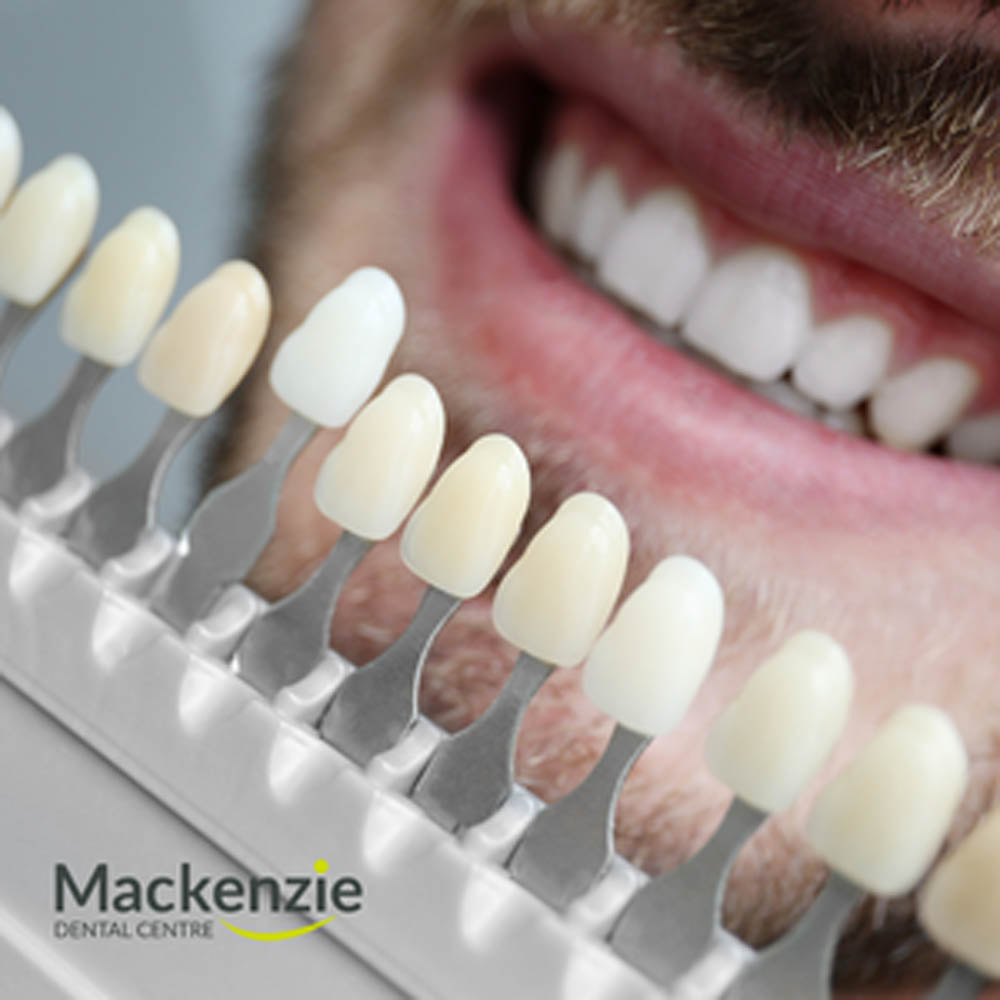 Dentists in Woodbridge, Vaughan see tooth discoloration frequently. There are many potential causes of yellowing or brown looking teeth. Some foods and drinks known for changing the appearance of teeth are wine, coffee, tea, colas, even balsamic vinegars and tomato-based sauces. Smoking tobacco and abrasive dental products also contribute to the yellowing of teeth. When an exhaustive list is put together, it can be difficult to protect your teeth without some external support from your dental team. At Mackenzie Dental Centre, we offer a variety of solutions including Zoom teeth whitening. But a favourite is composite and porcelain veneers. When done correctly by an experienced veneers dentist like Dr. Lloyd Pedvis, you can sport a whiter brighter smile.
How You & Your Veneers Dentist Fight Stains
When tough stains are no longer responding to at-home teeth whitening or treatments at a local dental clinic near you, veneers offer a long term solution. Veneer dentists essentially and cover the front surface of your teeth. The new tooth surface is perfectly white and tailored to your mouth to look natural. Porcelain and composite veneers give you a fresh start with your teeth and help restore confidence in your smile.
How to Prevent Veneers From Staining
Veneers function similarly to natural teeth which means they require a robust oral hygiene routine including regularly scheduled visits to a dental clinic near you. It's important to continue brushing your teeth twice daily with a fluoride toothpaste while also being cautious of the foods you consume that are prone to staining. It's recommended by veneers dentists in Woodbridge that you use a soft toothbrush to avoid microabrasion and damage to your new teeth.
Zoom Teeth Whitening in Woodbridge
If you're not ready for veneers just yet, you can still whiten your teeth professionally at a trusted dental clinic near you. Mackenzie Dental Centre offers convenient Zoom Teeth Whitening as one of our cosmetic dentistry options in Vaughan. In less than an hour, you can get your teeth up to 8 shades lighter with results that are enhanced with easy-to-use take-home whitening kits. To learn more about Zoom Teeth Whitening near you in Woodbridge & Maple, Vaughan reach out to Mackenzie Dental Centre.
Veneers & Cosmetic Dentistry at Mackenzie Dental Centre
If your teeth make you self-conscious or you're tired of spending on over-the-counter teeth whitening products, it's time to come into Mackenzie Dental Centre and inquire about veneers.