Laser technology has revolutionized the entire healthcare industry over the past few decades. Among patients and dentists alike, laser dentistry is rapidly gaining in popularity for its pain-free precision and overall efficacy. With a dentist in Woodbridge, you probably will be offered the option of trying laser dentistry to treat your dental issue or concern. This blog provides a helpful outline for laser dentistry procedures and the types of dental concerns they treat.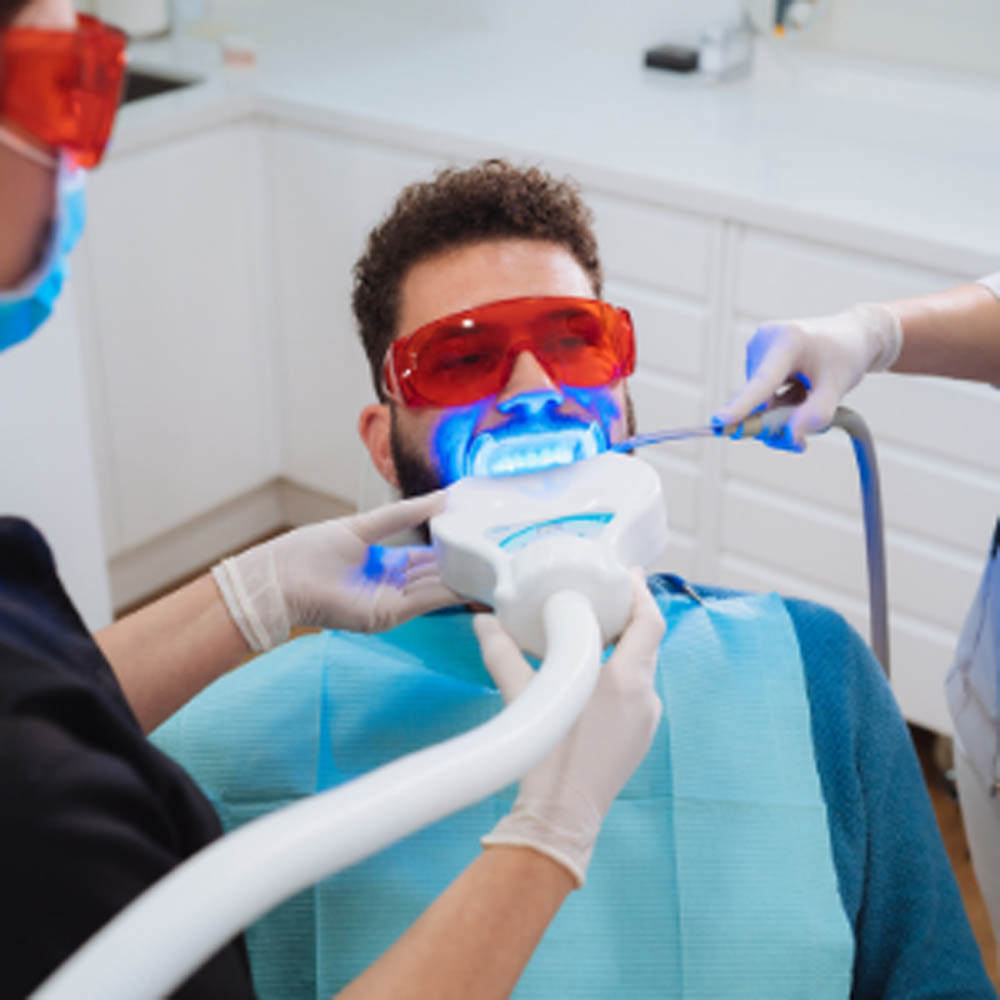 Laser dentistry uses laser technology to treat a variety of dental issues. These lasers can be used for cosmetic procedures and endodontic and periodontic concerns. Lasers are more precise than traditional procedures, helping to reduce bleeding, swelling, and pain before, during and after the treatment. As the name implies, your dentist will use a laser directed at a specific area of your mouth to treat such concerns as gum and tooth disease.
How Does Laser Dentistry Work?
Laser dentistry works by using concentrated laser light to treat a range of dental concerns. This includes gum surgeries, contouring of gums, treating sores and infections, and treating damaged or decayed teeth. With the help of your dentist in Woodbridge, you can use laser dentistry to treat almost any cosmetic or general dental concern.
These procedures are pain-free and therefore don't require any anesthesia.
What Procedures Can I Get With Laser Dentistry?
With laser dentistry, you can treat cold sores, canker sores, tooth or gum infections, gum disease and inflammation, regenerate damaged nerves, sculpt gums, or help to expose wisdom teeth. The sky's the limit when it comes to using laser dentistry for cosmetic and general dental procedures.
How Long Do Procedures Take?
Procedures involving laser dentistry will vary in length based on the type of treatment you are receiving. On average, it will take between 30 minutes and an hour for most regular dental treatments. Your Woodbridge dentist can help you determine how long your laser dental procedure will take. In general, your procedure will take less time than it would be using traditional dental treatments.
Is It Really Pain Free?
Due to the design and function of lasers, all laser dentistry procedures are pain free.
Lasers are precise and efficient at treating any number of dental concerns. This precision ensures that there is minimal bleeding or swelling, making post-operative procedures easy and straightforward. With minimal scarring, pain, and swelling, your mouth will be able to recover in rapid time. Most patients feel better either the same day or the next day, whereas traditional procedures can require several days for a full recovery.
Mackenzie Dental Centre's lead dentist, Dr. Lloyd Pedvis boasts over 25 years of experience providing family and cosmetic dentistry to the Greater Toronto Area. As a dentist in Woodbridge, Dr. Pedvis provides quality dental care for your entire family. He currently uses the Sirona SIROLaser to deliver laser dentistry procedures to his patients. With the help of Dr. Pedvis and his team, you can transform your teeth to achieve the best smile of your life. Want to learn more about laser dentistry procedures? Thinking about booking a check-up today? Call Mackenzie Dental Centre 905-417-8700.