For every patient, young or old, preventative dentistry is the very best approach for maintaining optimum oral health. With a good family dentist, preventative dentistry allows for early diagnosis and early treatment. Naturally, prevention begins at home, but with a good family dentist, teeth and gums can be kept healthy on a consistent basis.
The aim of prevention is to avoid getting cavities, inhibit enamel wear, and avert gum disease. As such, the basics are straightforward – routine brushing and flossing; semi-annual examinations and cleanings; and early diagnosis of anything serious. At the Mackenzie Dental Centre, patients are offered a host of preventive oral-care treatments.
The importance of oral health at a young age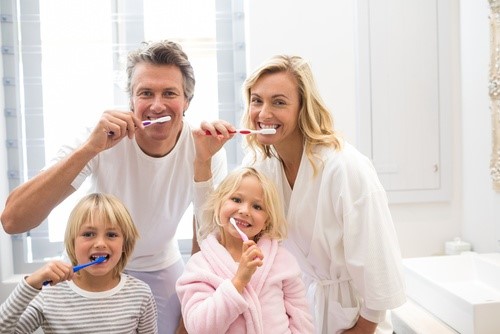 Monitoring oral health during the younger years will set the stage for proper oral care through adolescence and through the teenage years. By teaching young children about the importance of oral hygiene, future success is assured when it comes to tooth and gum health. When parents cultivate good habits as their children grow up, it ensures self-sufficiency for life.
For the youngest kids, most family dentists recommend an initial dental visit around the age of two. In fact, family dentists generally agree that taking good care of baby teeth is as important as taking care of permanent teeth. Above and beyond regular clinic visits, and properly addressing oral health issues, health and hygiene has to begin with parents at home base.
Detecting cavities with DIAGNOdent
At the Mackenzie Dental Centre, Dr. Lloyd Pedvis uses DIAGNOdent technology to help detect cavities. DIAGNOdent ensures early detection of cavities and is able to identify even small and emerging cavities. With this technology, problem areas are visible that might go undetected.
Detecting early signs of gum disease
Early diagnose of periodontal disease (gum disease) is critical for implementing treatment. With Periowave™, gum disease can be arrested using photodynamic disinfection to neutralize harmful bacteria. Periowave™ is recommended in conjunction with regular periodontal hygiene care.
Digital x-rays for accurate diagnosis
Digital x-rays provide accurate imaging for detecting tooth decay, assessing bone density, and checking the health of roots. At the Mackenzie Dental Centre, digital x-rays emit less radiation than conventional x-rays, with computerized images that are sharp and available immediately.
Preventative dentistry in Woodbridge
As a leading dentist in Woodbridge, Dr. Pedvis considers every patient to be unique. The clinic provides a host of services for the entire family - from routine exams, to whitening, to implants, to dentures. When required, Dr. Pedvis also performs root canal procedures, as well as cosmetic related treatments. Overall, the Mackenzie Dental Centre is focused on a preventive approach.
Patients of Dr Pedvis have discovered a clinic atmosphere that is calm and relaxing. It's designed to be a comfortable experience for both adults and children. While in treatment, patients relax and watch their favourite shows on a ceiling-mounted flat screen. Better still, children of all ages enjoy the innovative Kid-Zone, where they can unwind before their treatment or while waiting.