Dental veneers (referred to as porcelain veneers or porcelain laminates) are wafer-thin shells, made to cover the front surface of a tooth, and designed to improve appearance. Veneers are custom-made and colour matched in order to alter the color, shape, and size of teeth that need restoration. If you're looking for dental veneers in Woodbridge, here are some of the basics.
What are dental veneers made from?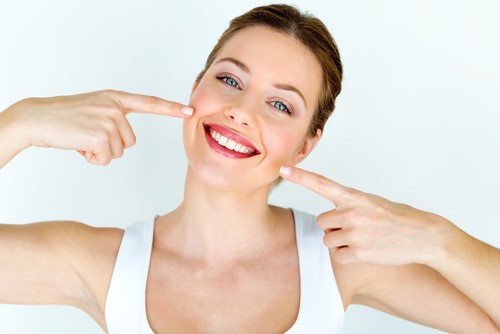 Dental veneers are fabricated from either porcelain or composite resin material. The porcelain material resists stains better than the resin material, and better mimic the aesthetic properties of natural teeth. For those considering dental veneers in Woodbridge, a discussion with your dentist will clarify which option is best for your specific needs, and how best to proceed with treatment.
Dr. Lloyd Pedvis - Woodbridge, Ontario
Dr. Lloyd Pedvis graduated from McGill University (Faculty of Dentistry) in 1991 with his DDS degree. In 1992 he attended the University of Montreal's residency program located at St. Mary's Hospital. Dr. Pedvis has been in private practice since that time, spending his first years in the Ottawa area, and then establishing a Mississauga practice in 1995.
Dr. Pedvis is an active member of both the Ontario and Canadian Dental Associations. He is also a member of the Toronto Crown and Bridge Study Club and the CEREC Study Club. Beyond these credentials, Dr. Pedvis is a member in good standing of the Royal College of Dental Surgeons of Ontario, and is formally certified in Moderate Sedation by the college.
In addition to a complete range of dental treatments and procedures, Dr. Pedvis provides dental veneers in Woodbridge and throughout York Region. Outside of his dental practice, Dr. Pedvis enjoys many sports activities, especially basketball. As a family man, he loves spending time with his wife Randi and their three sons - Matthew, Joshua, and Evan.
Restoring teeth using dental veneers
On the best advice of your dentist in Vaughan, dental veneers can be used to repair and restore various dental issues. In fact, veneers can be quite transformative when other options aren't viable.
Discolored teeth (due to a root canal or serious staining)
Ugly appearance (excessive fluoride use or large fillings)
Worn down teeth that are chipped, broken or cracked
Teeth that are irregularly shaped, uneven, or misaligned
Teeth with gaps (to close the space between these teeth)
The procedure for getting a dental veneer
Getting dental veneers usually requires three clinic visits. To begin with, a consultative visit will set the process in motion. Then, two additional visits are required to fabricate and then apply the veneer(s). Depending on need, one tooth or several teeth can undergo veneering simultaneously.
Arranging for a diagnosis and treatment
As a patient, it's important for you to explain to your dentist what you want to achieve in terms of restoration. During diagnosis, your dentist will do a full oral exam and determine whether dental veneers are appropriate. At the same time, the pros and cons of the procedure will be explained, and in going forward, X-Rays and dental impressions will be made so that treatment can proceed.
Preparation process for dental veneers
In preparing a tooth for a veneer, your dentist will be removing some surface enamel - an amount nearly equal to the thickness of the veneer. Prior to removing the enamel, you can request some local anesthetic in order to numb the treatment area.
The next step in the process is to make an "impression" of your tooth – in other words, an exact shape of the eventual veneer. The "impression" is sent out to a dental lab, which fabricates the veneer. In some cases, temporary veneers are made.
The fabrication process usually takes about 2-4 weeks. When your dentist receives the fabricated veneers, a follow up visit will be planned for the final application and cosmetic finishing touches.
You could benefit from dental veneers
If you're dealing with the unsightly appearance of damaged or decayed teeth, you could benefit greatly from dental veneers (for one or more teeth). Dr. Pedvis provides aesthetically pleasing dental veneers in Woodbridge, in a clinic environment that is professional and stress-free.
Dr. Pedvis will discuss the procedure and will explain the upsides and downsides. In terms of aesthetics, the long-term results are satisfactory, and depending on a patient's condition, the veneer option may be the best. Ultimately, it's up to you, the patient, to make the decision.
Dental veneers for specific conditions
On the advice of your dentist, dental veneers are prescribed for various dental issues: chipped or broken teeth; permanently stained teeth; misshapen or crooked teeth; unattractive gaps/spaces between teeth; and even unappealing dental fillings.
With veneers, it's important to understand that they only improve aesthetic appearance. Rightly so, dental veneers may not suit everyone. With a comprehensive dental exam, your dentist will be able to assess if the finished results merit treatment.
Patients with serious tooth decay (or with symptoms of gum disease) may need some additional treatment before veneers can be applied. Additionally, patients with poor tooth structure may not be good candidates for the veneer procedure.
Finally, if you grind your teeth, dental veneers may not be the answer. With Dr. Pedvis, patients are assured of a comprehensive diagnosis, and a consideration of various restorative options. If veneers aren't right, there are other possibilities.
Two options for getting dental veneers
In general, there are two options for dental veneers. With composite resin veneers, these stick directly to the enamel surface of a tooth. They are colour-matched to a patient's natural tooth and are applied in layers. Once the resin layers harden, shaping and polishing allow for a finished look. The veneered tooth looks smooth, natural, and aesthetically impressive. When done well, composite resin veneers look so natural they're often difficult to even differentiate.
Porcelain veneers are another option, and with their own benefits. Porcelain veneers are strong, durable, and resilient. They will last for 10 to 15 years. They don't attract or retain any stains. Porcelain veneers are very "life-like", although they are somewhat more costly. The treatment is more complex and requires more professional expertise. If you're considering dental veneers in Woodbridge, Dr. Pedvis will recommend the best option, and how best to proceed.
For top quality dental veneers in Woodbridge
At the Mackenzie Dental Centre, Dr. Pedvis provides dental veneers in Woodbridge and in the neighboring communities. To find out more about dental veneers and other cosmetic dentistry, call the clinic at 905-417-8700 or contact us online.