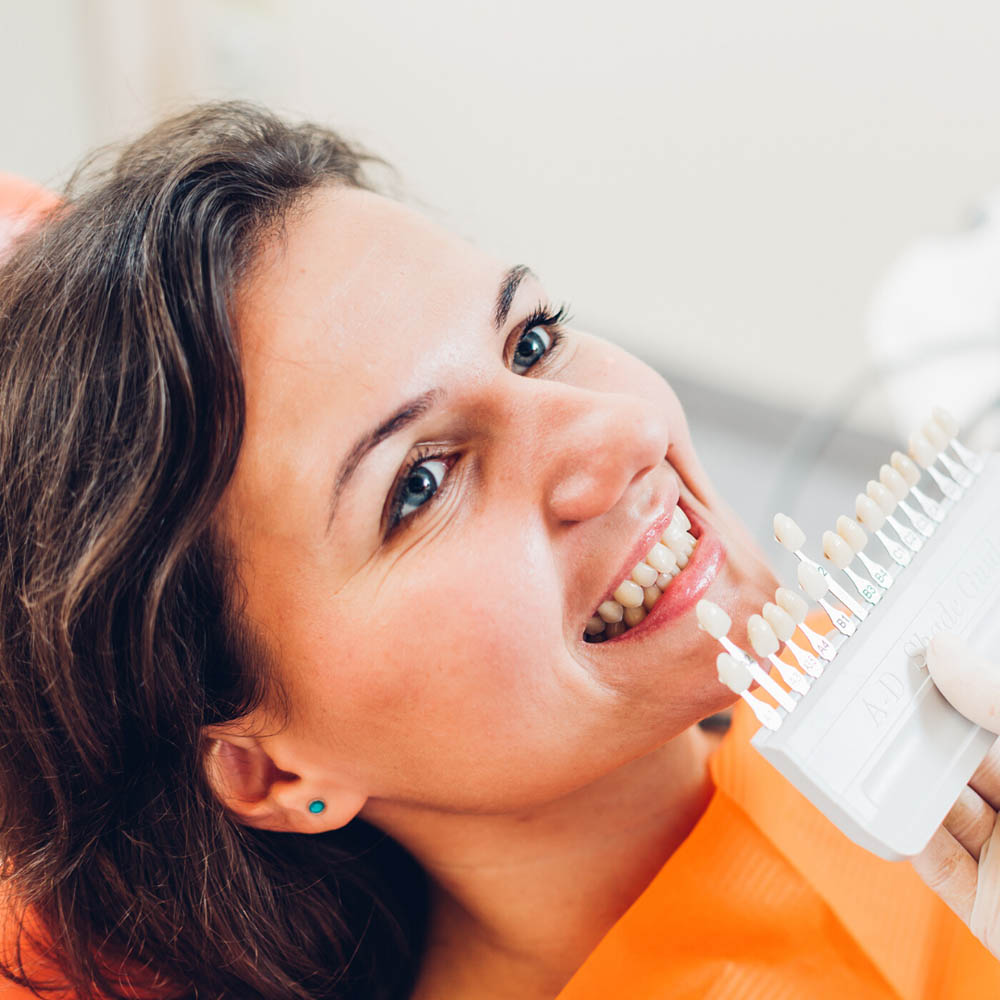 When making a first impression, your smile is one of the first things people notice. A smile is the best way to share your enthusiasm and delight with the world. However, many people are uncomfortable or self-conscious with their smile. Crooked, chipped, broken or discoloured teeth can make some people embarrassed or uncomfortable when they smile. Thankfully, cosmetic dentistry has greatly improved over the past fifty years and it is now easier than ever to transform your smile into something you are eager to share. In this blog post, we will specifically discuss the power of veneers in transforming smiles. In as little as two visits to your cosmetic dentist you'll be able to transform your mouth into the radiant, bright-white smile of your dreams.
What are Porcelain Veneers?
Veneers act as a protective "cap" on teeth to improve their overall look and function. Many patients choose porcelain veneers as they are durable and resilient, lasting for at least 10-15 years. Porcelain veneers are effective at improving the look of chipped, broken or stained teeth without requiring implants or more invasive procedures. The porcelain itself will not attract any additional stains and their "life-like" look and feel are truly able to transform a smile. Many people choose porcelain veneers, especially for the front facing teeth, to help restore confidence in their smile. Although other veneer options exist, nothing compares to porcelain veneers for their durability and natural look and feel.
How can Porcelain Veneers Help Me?
Strengthen Teeth
One of the biggest benefits of porcelain veneers is a strengthening of damaged or weakened teeth. The veneer can protect teeth from any additional damage for at least 10-15 years! This improved strength comes from the ceramic material that creates a hardy outer shell to protect teeth for years. This strength is comparable to natural tooth enamel and the veneer is resistant to staining, wear and tear and cracks. The final product is a hardy coating that protects teeth and keeps them looking healthy and vibrant for years to come.
Transform Your Smile
Versatility is one of the unique benefits of porcelain veneers. These protective shells are becoming more and more popular with patients to fix a variety of dental issues including stained, chipped, broken or weak teeth. Veneer technology can also be applied to fix gaps between teeth and even correct misaligned teeth. Many dentists include veneers as part of a comprehensive smile makeover plan. With veneers, there are endless options to restore confidence in your smile.
Natural Look & Feel
The popularity of dental veneers is primarily due to their uniquely natural look and feel. Dental veneers are similar in appearance and structure to tooth enamel, allowing you to transform your smile while still maintaining the natural look of teeth. The similarities between enamel and porcelain's translucent structure allow light to reflect off the inner layers of teeth to create the natural radiation of a beautiful smile.
Whiten Teeth
One of the most common complaints with dental patients is that they wish their teeth could be whiter. Over time, our eating, drinking and lifestyle habits can result in stained teeth that look dull and tired. Although over-the-counter remedies exist, nothing is as powerful as dental veneers in restoring a brilliant, white smile for at least a decade. With veneers, you will instantly achieve a bright-white smile: no additional treatments necessary! Unlike tooth enamel, these veneers are then resistant to any additional staining as they are not porous. This will give you peace of mind as you enjoy coffee, wine and other tooth-staining foods for years without worry of it affecting the whiteness of your teeth.
Rapid Results
Dental veneers are a relatively simple treatment that immediately restores the natural look and feel of a radiant smile. The placement of veneers can usually be achieved in one or two visits to the dentist and involves a simple procedure. Usually the first visit will involve preparation of teeth and the taking of impressions to create your custom veneers. The second visit will then involve placing the veneers on teeth and ensuring that you are satisfied with your new smile.
How Long do Porcelain Veneers Last?
Porcelain veneers have been found to last the average person 10-15 years. As with any dental procedure, the best way to increase the longevity of dental veneers is by following a comprehensive oral health care routine. This should include brushing twice a day for the dentist recommended two minutes in addition to flossing and rinsing with a mouth wash. This should also be combined with regular visits to your dentist for professional cleaning and check ups. Easily extend the lifetime of your veneers by following these simple daily steps that will help your smile look and feel its best!
How Mackenzie Dental Centre can Help
At Mackenzie Dental Centre, Dr. Lloyd Pedvis has over 25 years of experience providing family and cosmetic dentistry services to the Woodbridge, Vaughan and Maple areas. Dr. Pedvis and his expert team are committed to helping patients achieve the best smile of their lives. A radiant smile can truly transform your confidence and we want to help with your smile makeover. Our comprehensive cosmetic procedures include dental veneers, crowns, Invisalign technology, professional whitening services, dentures and more.
Most cosmetic dentists undergo specific training to provide specialty treatments. A general and cosmetic dentist can combine both sets of skills to make a big difference in patients' lives. By improving the visual aesthetics of teeth in addition to their overall strength and function, you will have confidence in your smile for years to come.
With our cosmetic dentistry services we can help you replace a missing tooth, whiten teeth, reshape a tooth or restore damaged teeth. Whether you are looking to fix a single tooth or your entire smile, we can help with every step of the way. For more information on any of our cosmetic procedures, or to get started with the veneer process, contact our team today at 905-417-8700.