Arguably, everyone wants a beautiful smile with sparkling white teeth. Dull or yellow teeth give an impression of poor oral health and unhealthy teeth, even if that's not the truth. A less than vibrant smile can also negatively impact your confidence and social interactions, leaving many people searching for a dentist in Woodbridge or over-the-counter solutions Many factors can affect the colour of your teeth, making them appear less white and lose their luminosity. Thankfully, your trusted dentist in Woodbridge at Mackenzie Dental will help you achieve a brighter, whiter smile with advanced ZOOM Teeth whitening treatment. Read on to learn what's causing yellow teeth, how to prevent them, and how you can restore their sheen.
What Causes the Colour of Teeth to Change Overtime?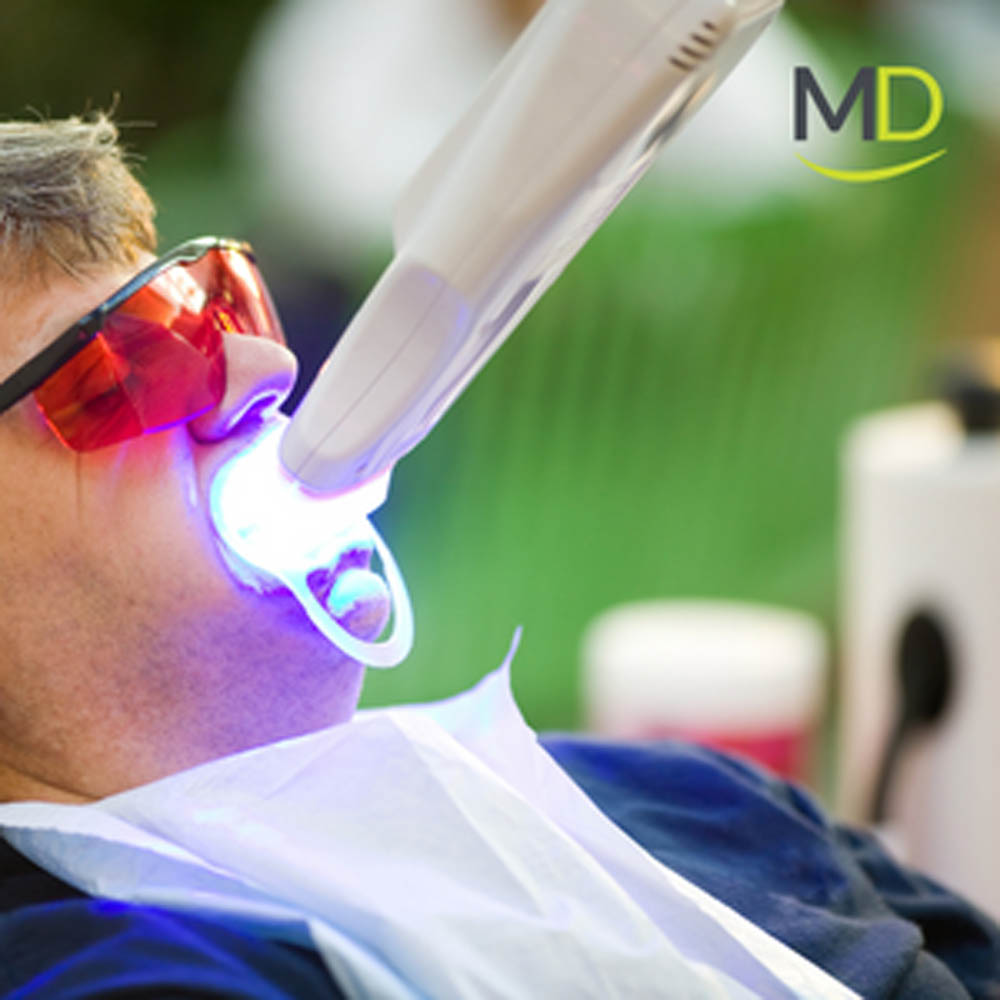 As mentioned above, various factors affect the colour and luminosity of your teeth. Here are some common culprits:
Foods: Teeth can be stained by many foods in our day-to-day diet. Food items like curry spices, berries, and tomatoes all contain colour pigments that can discolour the tooth enamel. Even healthy salads with a vinaigrette dressing can stain and dull your teeth.
Drinks: Drinks with high tannin levels can cause long-term discolouration of teeth. Tea, coffee, red and white wine, sports drinks or dark sodas with artificial colouring can all affect the tooth enamel and cause yellow teeth and discolouration.
Smoking: The nicotine from smoking doesn't just affect your lungs—it also causes brown or yellowish surface stains on the teeth. Only an in-office treatment like ZOOM! Teeth whitening by a professional dentist in Woodbridge can help tackle those unsightly nicotine stains.
Thinning Enamel: Dentin is a yellow or brownish material under the tooth enamel that is often the cause of yellowish teeth. Thinning or eroding tooth enamel can cause the dentin underneath to show through and make your smile appear yellow. Also, tooth enamel cannot prevent surface stains from building up on your teeth.
Genetics: Often, tooth colour is determined by genetics. If your parent's teeth are discoloured or yellow, yours could be a similar hue. The tooth colour spectrum, apart from white, consists of natural shades like reddish-yellow, reddish-brown, grey and reddish-grey. The depth can vary from dark to light.
Poor Dental Hygiene: Not brushing or flossing your teeth regularly can cause food stains and plaque build-up.
How ZOOM! Teeth Whitening Can Help
The safest and most effective route to whiter teeth is a professional in-office teeth whitening treatment. Here's where Mackenzie Dental's ZOOM! Teeth whitening can be a game-changer! Only a few 15-minute sessions can remove years of stains and discolouration. Using the advanced light-activated hydrogen peroxide gel treatment, your teeth can whiten up to 8 shades. The advanced whitening agents in ZOOM! Treatments are safe and highly effective for your teeth and gums.
ZOOM! Teeth Whitening Benefits:
Only 3X15-minute sessions
Convenient option of take-home whitening kits
Home-use touch-up kits to maintain your smile
Custom-fitted teeth whitening trays
Safe for enamel
Long-lasting results (1-4 years)
Approved by experienced dentists in Woodbridge
Professional Teeth Whitening Treatments in Vaughan
DIY dental whiteners and over-the-counter teeth whitening kits can damage your teeth. Choose Mackenzie Dental for safe and professional teeth whitening by a trusted dentist in Woodbridge. Professional whitening treatments like ZOOM! Teeth whitening can dramatically transform your smile in minutes! Dr. Pedvis and his team will recommend safe and non-invasive whitening treatments customized for your teeth. Connect with Mackenzie Dental to schedule a ZOOM! Teeth whitening consultation today!