Children's Dentistry Vaughan
For children's dentistry in Vaughan, local patients can rely on the Mackenzie Dental Centre for a welcome and child-friendly environment. Particularly in their early years, children need more specialized dental care. For some, it's stressful to go to the pediatric dentist, so a child-friendly clinic environment is ideal in addressing the fears. Dr. Lloyd Pedvis offers a wide range of dental services for the entire family, and for children of all ages at Mackenzie Dental Centre, a leading dental clinic in Vaughan.
A comfortable dental environment for the parents and kids
Parents looking for kids dentistry in Vaughan will find the Mackenzie Dental Centre to be a great start – with a focus on prevention and a proactive approach to dental health. Dr. Pedvis believes in starting early with children, creating a "dental home" where kids can feel comfortable and at ease. Regular oral exams are stress-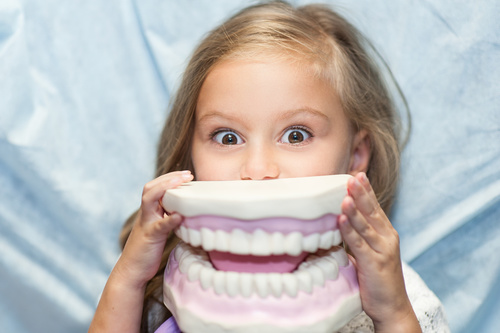 free and clinic visits become routine. Whatever the age, regular visits to the pediatric dentist are encouraged, and oral hygiene at home is well promoted.
Access to children's dentistry in Vaughan has definite benefits for the health and development of your kids. At the Mackenzie Dental Centre, Dr. Pedvis makes an effort to instill "grown up" ideas about dental health to children. This approach is about maintaining good dental hygiene; preventing cavities; and deterring any chance of orthodontic problems. Nonetheless, children will have oral health issues as they mature, so access to a kid-friendly dental office in Woodbridge with more specialized services is beneficial.
A safe atmosphere where kids are encouraged to learn prevenative oral health techniques
Even with the best habits, children will have dental health issues. As a kid-friendly dentist, Dr. Pedvis appreciates the fears of younger children and has therefore created a safe, secure clinic atmosphere. For on-going maintenance, it's recommended that regular exams, cleaning, and fluoridation be planned. At the same time, there may come a time when a more specialized treatment option is required, like a space maintainer, mouth guard, or orthodontic device.
Providing children's dentistry in Vaughan, Dr. Pedvis takes personal interest in every child. After all, this is likely going to be a long-term patient/dentist relationship. For parents who are in the process of choosing a kids dentist, there are a number of things to consider: first, do the necessary research; second, ask relevant questions; and finally, make certain that the child's needs are addressed. By any measure, parents who are better informed make better decisions.
Kids remain calm and relaxed during treatments & benefit from a range of dental services
The Mackenzie Dental Centre is at the forefront of dentistry. A high standard of dental care is always assured, whether it's for adult patients or children. Best of all, many patients have found a dental clinic environment that is both comforting and relaxing - an atmosphere that is calming for adults and children alike. Indeed, the clinic has been specifically designed to ease the understandable fears that patients have when visiting the dentist. This is truly the way to visit the dentist.
Kids dentists in Vaughan at the Mackenzie Dental Centre
The Mackenzie Dental Centre offers children's dentistry in Vaughan, Woodbridge, and Maple. Dr.Lloyd Pedvis is a family dentist in Vaughan, providing care family, with a clinic atmosphere that is stress-free and reliable. At the forefront of children's dentistry in Vaughan, Dr. Lloyd Pedvis aims for a preventive approach to pediatric dentistry, instilling positive ideas about oral hygiene for children as young as three.
Parents looking for quality children's dentistry in Vaughan will find a high standard of care at the Mackenzie Dental Centre. From regular dental checkups to more complex procedures, Dr. Pedvis and the team provide personalized care that is focused on the individual. The idea with children, of course, is set the stage for the future with responsible oral care day to day, through the year.
With a focus on children's dentistry in Vaughan, Dr. Pedvis inspires even his youngest patients with "grown up" ideas about dental health. He educates pre-school children to understand the importance of daily oral care; preventing cavities; and eating healthy. More than, children learn about proper brushing and flossing, so that they take responsibility for their own oral health
Brushing properly
When it comes to brushing teeth, new parents often discover that their old habits are actually the wrong habits. The good news is that bad habits can be corrected, especially when new parents are teaching their young kids about oral hygiene. Some tooth brushing rules are obvious, but others need reinforcement - and getting young kids on the right track is simply good parenting.
proper tooth brushing should last at least two minutes
brushing should be twice a day (morning and bedtime)
it's most preferable to use a fluoride-based toothpaste
flossing should be at least once a day (usually bedtime)
sugary snacks should be restricted in number each day
oral examinations should be scheduled every 6 months
How to floss properly
The key with flossing is to instill regularity when children are small. In this way, flossing habits will grow with the child, and flossing will become routine. Although flossing for young children may not be as vital as for adults, the so-called training will be long lasting, and as young adults, flossing will simply be a regular part of oral hygiene. Following some basic guidelines is helpful.
for good grasp, floss should be from 18 - 24 inches in length
the floss ends should be wound around index/middle fingers
tightened floss should be held around the tooth in a "C" shape
floss should be pulled back/forth and up/down over the tooth
With proper brushing, good flossing, and less snacking, tooth decay can be significantly reduced. And that applies to children of all ages (not to mention the adults). In fact, very young children are just as vulnerable to tooth decay as older children. As for regular dental checkups, these are critical for the whole family, and with children as young as two or three. These visits allow for familiarity with the dentist, and a positive dental experience every time an appointment is set.
For children's dentistry in Vaughan, families in Woodbridge and Maple can count on Dr. Pedvis for a full range of dental services - from routine exams, to cosmetic procedures, to dental implants. To find out more, contact us online or call the clinic at 905-417-8700.