You have finally decided to get the perfect Hollywood smile you've always dreamt of, but are wondering is cosmetic dentistry worth it?
In modern society, beauty and youth play a bigger role than ever before, and it is not surprising that cosmetic dental procedures gain more and more popularity among men and women alike. The good news is that at Mackenzie Dental Centre, we are determined to meet the needs of each and every client.
From teeth whitening to dental veneers, from composite bonding to dental implants, our dentists in Vaughan offer a variety of dental procedures to help you achieve that perfect white smile.
Is Cosmetic Dentistry Worth it? How is it Different from General Dentistry?
Cosmetic dentistry refers to any dental procedures that are meant to improve the appearance of your teeth, but not necessarily their health. While cosmetic dentistry does not consider dental health issues, it chiefly focuses on improving the appearance of a patient's smile.
In simple words, most cosmetic dental procedures are not essential, yet they can offer a broad range of benefits, such as improving a patient's confidence level, making regular cleaning easier, and even reducing teeth grinding.
What are the Different Types of Cosmetic Dentistry?
To answer the question "Is cosmetic dentistry worth it?", you need to understand all the different types of cosmetic dental procedures out there. With the latest developments in cosmetic dentistry field, there is a wide range of procedures that can dramatically change the way your smile looks. At Mackenzie Dental, we can fix any dental issue – from teeth discoloration, to chips or cracks, to missing or misaligned teeth.
Importantly, most of the cosmetic procedures performed at Mackenzie Dental Centre are painless and require virtually no recovery time, so you can easily fit them into your busy schedule.
Here are some of the most popular cosmetic dental procedures:
1. Orthodontics (Straightening Teeth)
At Mackenzie Dental Centre, we utilise Invisalign® technology to gradually shift the teeth into place. The best part is that, unlike conventional braces, the Invisalign® fixture is nearly invisible. The "clear aligners" are custom made for each patient, and a new set of aligners should be used every two weeks. Finally, the progress should be monitored at the clinic every 6 weeks. For optimal results, Dr. Pedvis recommends wearing the aligners for at least 20 hours a day.
The entire process normally takes about a year, yielding drastic results and dramatic physical changes.
2. Inlays and Onlays
Inlays and onlays, also known as indirect fillings, are made by a dental laboratory and are used when a tooth has a mild or moderate decay. They are also commonly used when there is not enough tooth structure left to support a regular filling. If the tooth cusps aren't damaged, the inlay can be placed directly onto the tooth surface. However, when a greater portion of the tooth or the cusp is damaged, an onlay can be used to cover the tooth's entire surface.
Both inlays and onlays are made of composite resin material and are attached to the tooth with adhesive dental cement in order to provide support to the tooth, restore its shape, and avoid further deterioration and decay.
3. Composite Bonding
Composite bonding resembles the colour of tooth enamel and is used to repair damaged, decayed, or discoloured teeth. During the procedure, the dentist drills out the decayed part and applies the composite bonding material onto the tooth surface. Finally, the material is sculpted into the desired shape and cured with high-intensity light.
Composite bonding is one of the most affordable cosmetic dentistry procedures to treat decayed, cracked or chipped teeth, and worn-down edges.
4. Dental Veneers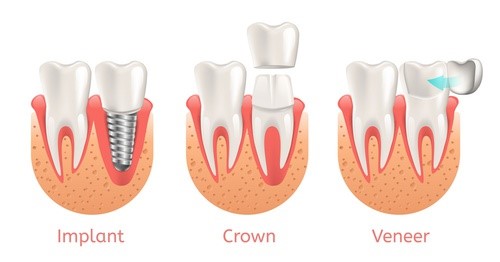 Dental veneers are typically manufactured from special medical-grade ceramic and are made specifically for each patient. Veneers resemble natural teeth and are applied to the front of each tooth with a special dental adhesive. They look extremely realistic and successfully resolve a variety of cosmetic issues, such as cracked or damaged enamel, crooked teeth, or noticeable gaps between teeth.
For any dental veneer procedure, it is important to remember that the longevity will depend on your consistent maintenance, daily oral hygiene, and a commitment to regular dental examinations. Dr. Pedvis always recommends his patients with veneers to be more careful when biting, chewing, or grinding.
5. Teeth Whitening
Is cosmetic dentistry worth it? Definitely yes, when it comes to teeth whitening!
Over time, your teeth can become stained from food, drinks, smoking, and even certain medications. One of the fastest and most popular cosmetic dental procedures, teeth whitening, helps to restore the natural colour of your teeth. The whitening procedure must occur only after tartar, plaque, and any debris are cleaned from the teeth surface.
At Mackenzie Dental, we tailor all of our cosmetic treatments to specific needs of every client. As such, we make sure that our professional teeth whitening procedures suit your needs, yield exceptional results, and are completely safe.
6. Implants
Dental implants are used in order to replace the tooth after it has been lost. During the procedure, the dentist inserts a titanium screw into the jaw bone, which is used as the support for a crown. These dental implants are nearly indistinguishable from the surrounding natural teeth, and, after the surrounding tissue and the bone fuse to the implant, it is permanently secured into its place. During the implant placement period, it is important to practice diligent oral hygiene and clean any food debris from the area.
7. Crowns & Bridges
Dental bridges fill the space between missing teeth and are not exclusively cosmetic. It is less invasive and more affordable, as compared to dental implants, yet it can help to drastically improve the appearance of your teeth. Similarly, crowns can be applied to cracked or chipped teeth, restoring their normal shape.
The Benefits of Cosmetic Dentistry
The number one reason our patients choose to undergo cosmetic dentistry procedures is the desire to always have a picture-ready smile. However, apart from its obvious aesthetic benefits, cosmetic dentistry comes with a number of positive "side effects" – from improved dental hygiene to headache relief.
So is cosmetic dentistry worth it? Consider the top benefits of choosing to undergo cosmetic dentistry procedures at Mackenzie Dental Centre:
1. It Works.
The most important point about cosmetic dentistry is that IT WORKS. Cracked, chipped, or broken teeth can be restored to their original shape. Discoloured teeth can be whitened. In fact, nearly all kinds of dental issues can be treated with cosmetic dentistry.
2. Improved Self-Esteem.
Many people dream of a Hollywood smile, and many people suffer from depression and self-esteem issues due to their unattractive teeth. An aesthetically pleasing smile does not only increase self-confidence, but also makes day-to-day interactions with other people much more comfortable.
Now, all you need to do to achieve your dream smile and finally feel satisfied with your appearance is consider cosmetic dentistry services offered at Mackenzie Dental Centre.
3. Easy and Painless.
Over the years, the cosmetic dentistry technology has advanced significantly, making the process of dental makeover convenient, simple, and painless. When you undergo cosmetic dentistry treatments at Mackenzie Dental Centre, you do not need to worry about taking a lot of time off work to recover. Furthermore, Dr. Lloyd Pedvis is certified in Moderate Sedation, making sure that your experience at the clinic is as worry-less and as painless as possible.
4. Leaves Long Lasting Results.
Numerous cosmetic dentistry procedures yield results that last as long as over 10 years' time, thus minimizing the amount of money and time required to maintain a beautiful smile. Furthermore, if you are devoted to proper oral hygiene routine and regular check-ups, the results can last you a lifetime!
5. Improved Dental Hygiene.
After undergoing your cosmetic dentistry treatment, you will fall in love with your new smile! Of course, you won't want to ruin it and will feel more encouraged to keep up with your dental hygiene routine. This will involve changing your diet habits, such as avoiding food and drinks that might stain teeth. Furthermore, if you used to smoke, you will definitely feel encouraged to quit. You will brush and floss your teeth regularly and visit Dr. Pedvis every 6 month to ensure your beautiful new smile remains perfect for years to come.
6. Headache Relief.
Misaligned teeth often cause headaches. When you undergo cosmetic dentistry procedures to correct your smile, Dr. Lloyd Pedvis will help to fix the alignment of your teeth. This results in less headaches in the future and reduced chances of uneven wear of your teeth.
7. Strengthens Your Teeth.
Cosmetic dentistry procedures not only alter the appearance of your smile, but also improve the overall dental health. In fact, many cosmetic procedures actually restore your teeth. For example, if you receive dental bonding or veneers to cover chips and cracks in your teeth, you are actually protecting the teeth from any future damage.
8. Makes You Look Younger.
Nothing makes you look younger like a perfect smile. In fact, cosmetic dentistry is most popular among middle-aged adults who are aiming to freshen up their appearance. It is understandable: as compared to cosmetic surgery, cosmetic dentistry is a cheaper and less invasive way to look younger and more attractive.
How Long do Dental Implants Last?
Dental implants are a great option for long-term tooth replacement. You have probably heard that dental implants can last a life time, but is it really the case and is cosmetic dentistry worth it in case of implants?
The answer is yes and yes! Dental implants done by an experienced professional, such as Dr. Pedvis, last for decades. In fact, the implant technology has become so advanced that implant failures due to functionality issues or rejection have become problems of the past. More likely factors for implant failure are diseases and pre-existing medical conditions, as well as implant misuse. For example, smoking or gum disease, known as periodontal disease, can make your dental implants much more likely to fail.
Just like your natural teeth, the longevity of a dental implant depends largely on your oral care routine. Dental implants require care similar to natural teeth, including regular brushing and flossing, as well as dental check-ups. Nevertheless, if you do properly take care of your implants, it is quite likely that they will last you a lifetime.
Overall, is it Worth it?
One of the first things people notice is your smile. Not only does a beautiful smile reveal your confidence, but it also indicates your happiness and health. There is no doubt that a perfect smile can brighten your life both socially and professionally.
The good news is that today, there is a broad range of cosmetic dentistry treatments available that are fast, easy, and painless. Unlike plastic surgeries, a smile makeover only involves a few dental appointments, but yields immediate and dramatic results. Beautifully spaced, shaped, and whitened teeth can drastically transform the overall appearance and make anyone look younger and more attractive. Perfect looking smiles aren't just for celebrities anymore!
Mackenzie Dental Offers Professional Cosmetic Dental Procedures
After all, is cosmetic dentistry worth it? Yes, it is, - if it is done by an expert.
At Mackenzie Dental Centre, Dr. Lloyd Pedvis offers cosmetic dentistry services to the patients in Vaughan, Woodbridge, and Maple areas. Our team consists of highly skilled and experienced professionals, who employ state-of-the -art technology and the latest procedures in the field of cosmetic dentistry. We treat adults and children alike, and the clinic is equipped to address a broad range of emergencies. At Mackenzie Dental, we provide emergency care for accidents and any unexpected situations, and you can rest assured that, if anything unforeseen happens, Dr. Lloyd Pedvis and his team will be there to provide the best care possible.
Apart from cosmetic dentistry, we offer a full range of dental services, such as general and family dentistry, preventive dentistry, and more. Those patients who are a little more nervous and might require more sedation than the average will be happy to know that Dr. Pedvis is certified to administer Moderate Sedation – a combination of Nitrous Oxide and an additional "sedative" drug. During the procedure, patients are completely alert and responsive, and the dental team carefully monitors heart rate and blood pressure. Moderate Sedation is completely safe and effective.
Are you ready for that perfect smile? The good news is that Dr. Lloyd Pedvis is currently accepting new patients. Give us a call at 905-417-8700 to book a consultation or contact us online for more information.