If you're looking for a new dental clinic, your Woodbridge dentist is accepting new patients. Just like your general health, dental health requires regular and ongoing attention. The fact is, children, teens, adults, and even seniors, should all be paying attention to preventive oral care throughout the year.
Needless to say, aches and pains (in and around the mouth) need immediate attention, especially in order to prevent bigger problems from developing. That's why it's highly recommended to visit the dentist twice a year - one more reminder that your Woodbridge dental clinic is accepting new patients.
If dental health has not been a priority for you and your family, it's not too late to create an annual protocol. At the Mackenzie Dental Centre, our preventive approach to oral health is designed to treat problems immediately, and prevent further problems from developing into more serious conditions.
Your Woodbridge Dental Clinic is Accepting New Patients
Everyone needs a dentist for one reason or another. Clearly, it's not a good idea to react just when you have a problem. It's better to choose a preventive approach, which addresses problems head on, and lessens the potential for serious issues. Either way, keep a close eye on obvious symptoms and signs. With dental health it's always better to be cautious – when you feel something it's a signal to alert you.
pain or swelling in the mouth, face, or neck
gums are puffy (and bleeding) when brushing
bothersome crowns, dental implants, dentures
medical issues (like diabetes or cardio issues)
trouble eating, biting, and chewing your food
difficulty when chewing or swallowing foods
overly dry mouth and always feeling parched
regular users of any kind of tobacco products
jaw pain and/or popping sound in the jaw area
unusual spots, sores, lesions around the mouth
The importance of twice-a-year dental appointments
For most of us, there is no shortage of regular appointments throughout the year. But when it comes to general health and dental health, these should take priority. At the dentist, twice-a-year appointments are key in keeping teeth and gums in optimal shape. It's a matter of making it a priority for the family.
The main reason for visiting the dentist regularly throughout the year is to avoid tooth decay and gum problems. At first, these issues might seem minor, but when untreated, they can quickly lead to more serious problems. Twice-a-year dental visits can help with early diagnosis and immediate treatment.
In general, most people partake in oral hygiene – even if brushing and flossing could use improvement. With the help of your dentist, better habits can be learned, especially for children who need to practice proper techniques for both brushing and flossing. Overall, daily oral care routine is essential for health.
If you want to improve your family's dental health protocol, your Woodbridge dentist is accepting new patients, and is ready to implement a twice-a-year dental health plan for every member of the family. At the Mackenzie Dental Centre, early diagnosis is the focus – for both tooth health and gum health.
At the Mackenzie Dental Centre, dental checkups are comprehensive
While many of us go willingly to the dentist, we don't always pay close attention to what's actually happening during the visit. Actually, understanding the process can make the visit less stressful and more comfortable. After all, the dentist is on hand to provide a good assessment and valuable advice going forward. At the Mackenzie Dental Centre, our dental checkups are in-depth and comprehensive.
To begin with, we make it easy to arrange (and remember) regular appointments. From office staff to dental hygienists, our team is at your service. And for those who are somewhat anxious at the dentist, we make every effort to ease the process. Whether you're having a semi-annual visit, a scheduled procedure, or a follow-up, you can be sure that treatment is administered in a professional setting.
Every visit at the Mackenzie Dental Centre begins with a history review. Understandably, new patients have a more detailed process. For existing patients, changes to your health status are noted, and in particular new medications, new health issues, and even such things as pregnancy. If you're in the process of specific treatment, there may be a need for more follow up in order to assess the outcomes.
During your visit, teeth cleaning is often a routine treatment. Indeed, a dentist's office is the best place to get a thorough cleaning. Dealing with plaque and tartar above and below the gum line is one of the benefits of a professional cleaning. Even the best brusher/flosser can't do a job like the dentist. After the appointment, it's really up to you to maintain a level of brushing and cleaning for optimum health.
For this type of comprehensive oral care, your Woodbridge dentist is accepting new patients. Your teeth and gums will be examined thoroughly, and with advanced diagnostic tools it's possible to isolate and identify areas of concern. From obvious cavities to swelling gums, everything in the mouth is assessed. Where further treatment is required, your dentist will recommend the most suitable option.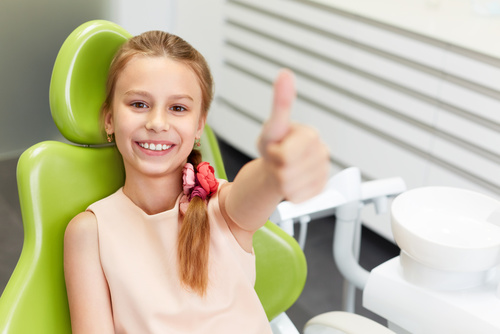 When it comes to dental X-Rays, these can be very valuable for pinpointing issues that are below the mouth's surface. While it's not necessary to X-Ray at every visit, these images are an excellent history of your teeth, your roots, and your jawbone. Keeping on top of these diagnostics helps the dentist to note any changes from visit to visit – particularly if you are committed to the twice-a-year protocol.
Right now, your Woodbridge dentist is accepting new patients

At the Mackenzie Dental Centre, your Woodbridge dentist is accepting new patients. We believe that early diagnosis is key for success, and we recommend semi-annual clinic visits for best results. From routine checkups to more complex procedures, our dental patients are always in good hands. Find out more at new-patients or book your first appointment by calling 905-417-8700.