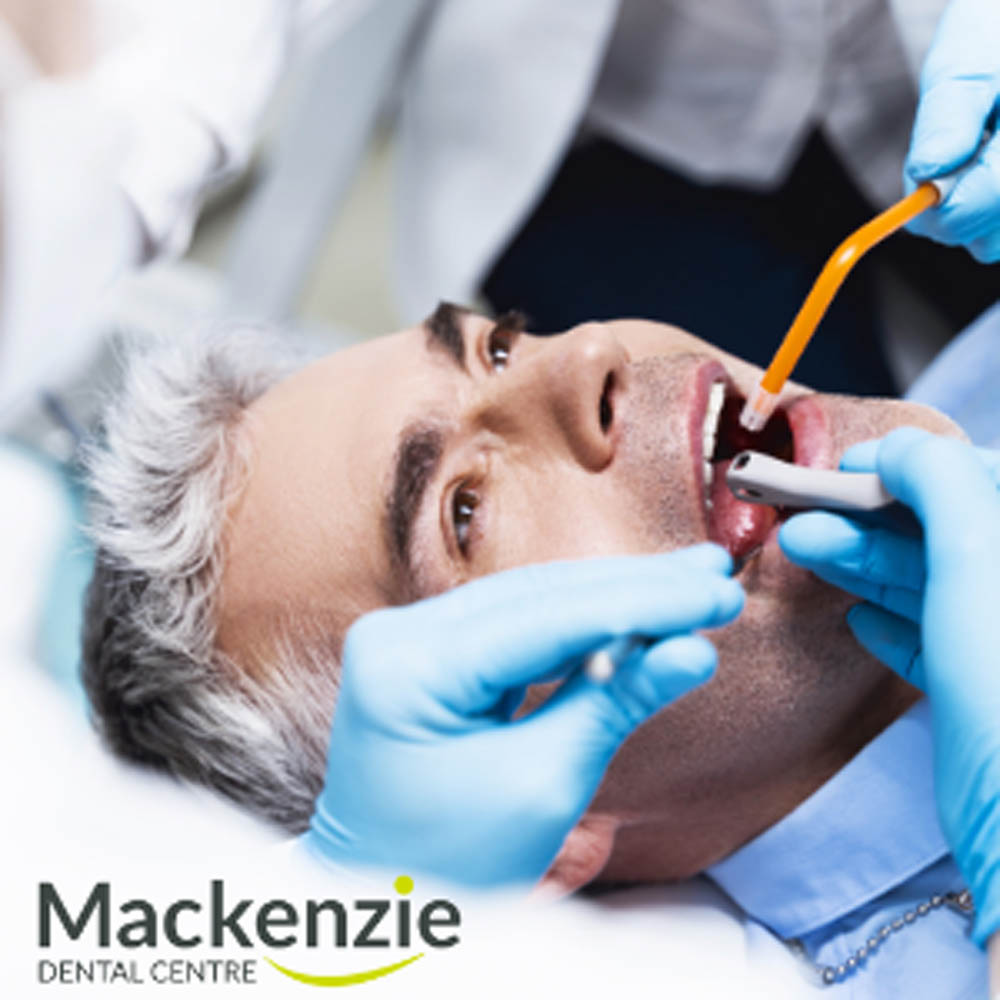 Root canal procedure is most commonly associated with scary and painful dental procedures. In reality, a root canal procedure is a simple preventative treatment utilized to save an infected tooth and eliminate the pain and further damage. If a dentist in Vaughan has recommended a root canal for an infected tooth, do not get yourself too worked up! Our Root Canal Dentists at Mackenzie Health can talk you through the straightforward procedure to help ease your fear.
Root Canal Is Straightforward and Simple Procedure
In reality, Root Canal procedures consist of drilling through the infected tooth, removing the damaged pulp, and restoring the tooth's shape. In total, the process takes roughly 2 hours to complete. Our root canal dentist will apply a local numbing anesthetic to your mouth, done properly by a trained dentist in Vaughan; you shouldn't feel any pain from the procedure!
What Is Root Canal For?
A root canal is a dental procedure to remove inflamed pulp due to tooth decay (preventative treatment) or injury. A damaged or infected tooth must be removed, and the chamber cleaned out. Our root canal procedures, performed by our seasoned root canal dentists, are painless, as our goal is always to save your tooth.
Why Choose A Root Canal Dentist in Vaughan
Root Canal dentists are specialists in their field. They receive additional training for how to perform procedures involving the inside of the tooth. The success rates of root canal procedures performed by root canal dentists stand at over 85%. By performing a root canal, we cease the pain and infection from spreading throughout the body and keep you from having an expensive - and scary - tooth extraction. You will also have a diminished likelihood of any future problems with the tooth when you have a root canal dentist performing the procedure.
Our specialist dentists in Vaughan are trained in all aspects of endodontics, including:
Completing root canals

Restoring the tooth after completing root canal therapy

Full Mouth Reconstruction

Preventing future decay by treating gum disease

Implant Placement
What Is Infected Pulp?
Found naturally in the pulp of the tooth, the pulp is made up of blood vessels and nerves. After a tooth has been cracked or broken, the pulp inside becomes inflamed due to bacteria which can spread and cause more damage leading to severe pain and tooth loss. It is important to treat an infected tooth as soon as possible to prevent further damage to the tooth and surrounding areas.
Contact Mackenzie Dental Health About Our Root Canal Procedure
Root Canal procedure is a relatively pain-free procedure that can literally save your tooth. Needing to have an infected tooth extracted is a much more costly and painful procedure to undergo.
To learn more about Root Canal treatments performed by the trusted root canal dentist at Mackenzie Health Dental, contact our dental clinic in Vaughan today! We're proud to serve patients from the City of Vaughan, City of Woodbridge, Town Of Richmond Hill, Town of King City, and Town of Bradford West Gwillimbury.
Learn More About Root Canal In Vaughan